Vladimir Sorokin shortlisted for Man Booker Prize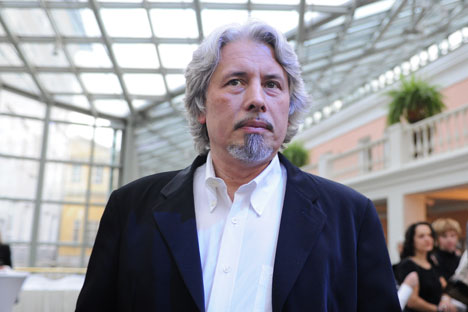 Vladimir Sorokin's chances of winning the Prize may be slightly increased by the fact that Elif Batuman, a specialist in Russian literature. Source: ITAR-TASS
Russian novelist Vladimir Sorokin was included in kist of finalists of the prestigious Man Booker International Prize.
Russian novelist Vladimir Sorokin has been shortlisted for the Man Booker International Prize, along with 10 other novelists: U. R. Ananthamurthy (India), Aharon Appelfeld (Israel), Lydia Davis (U.S.), Intizar Husain (Pakistan), Yan Lianke (China), Marie NDiaye (France), Josip Novakovich (Canada), Marilynne Robinson (U.S.), and Peter Stamm (Switzerland).
Vladimir Sorokin received a Man Booker Prize nomination for his novel "Day of the Oprichnik" (2006), which was published in English in late 2011. Apart from Russian and English translations, the novel has also been translated into almost 20 other languages.
In this novel by the "Russian provocateur" and "enfant terrible of the Russian literature" (as Sorokin has been called), critics have searched for parallels with what is known as "the Putin-era Russia," Kommersant newspaper observed.
The Man Booker International Prize is awarded once every two years to distinguish a body of works by a living author of any nationality, as long as the author's works are generally available in English translation. The British Man Booker prize, on the other hand, is open only to citizens of the Commonwealth, Ireland and Zimbabwe. The winner of the Man Booker International Prize is chosen by a panel of judges, which this year includes author and translator Tim Parks.
According to Izvestia, Vladimir Sorokin's chances of winning the Prize may be slightly increased by the fact that Elif Batuman, a specialist in Russian literature and the author of "The Possessed: Adventures with Russian Books and the People Who Read Them," is also on the jury.
The award ceremony will take place on May 22, 2013, with a prize fund of £60,000 ($94,800).
Based on materials from Izvestia and Kommersant.
All rights reserved by Rossiyskaya Gazeta.