Russian Kitchen: The humble pineapple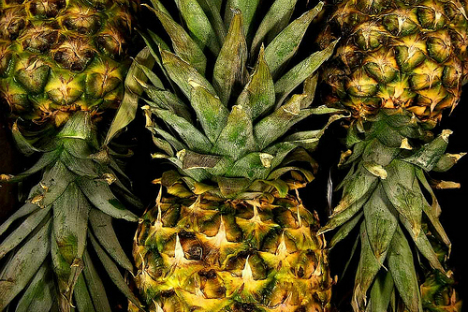 Pineapple is an exotic fruit for Russia. Source: Flickr/Dennisweiser
There are a lot of salads that have canned pineapples and people make poultry dishes with the tropical fruit.
Ananas, as pineapple is called in Russian and several Indian languages, is an exotic fruit for Russia and is put in every version of Russian salad in India. The original name of the fruit comes from the Tupi word nanas, meaning excellent fruit and comosus, meaning tufted, in a reference to the stem of the fruit. The modern English name pineapple was given to the fruit in the 17th century because of its resemblance to a pine cone.
It is believed that in the 18th century Russian botanists invented a special type of pineapple that could grow in cold conditions and had a very unique round shape. In the beginning of the 20th century, only very rich people could afford to eat pineapples. It was reflected in Russian revolutionary literature by statements and this is what Russian poet Vladimir Mayakovsky had to say:
"Eat pineapples, chew grouse,
This is your last day, bourgeois"
In 2013, this fruit is available in Russia throughout the year, thanks to imports from Costa Rica, Côte d'Ivoire and Ecuador. It is still costly for the common man. One pineapple would cost you 100 roubles (about 180 rupees) in Russia. In Bangalore we can buy 8-9 pineapples for the same price.
If fresh pineapple is a bit costly, the canned one is widely available and everybody can afford it. Russian love for exotic fruits has influenced new ideas in food recipes. There are a lot of salads that have canned pineapples and some people make poultry dishes with them. In India with a wide availability of the fruit, surprisingly, it is not used in cooking except for the standard Hawaiian pizza, which has pineapple pieces on it.
Cooking with pineapple
Salad
Cut peeled pineapple into cubes, mix with boiled prawns, add olive oil and season to taste. Serve on the bed of any type of lettuce.
Sauce
Cut pineapple into really small pieces and add green chilly to your taste. You can make the sauce smoother by using the blender. Season it with salt. It is an excellent addition to grilled fish or chicken.
Grilled Pineapple
Peel pineapple, cut into round shape, grill on barbeque or non-stick frying pan. It can be served with dahi sprinkled with jeera powder on it.
All rights reserved by Rossiyskaya Gazeta.