Russian Kitchen: Uzbek Plov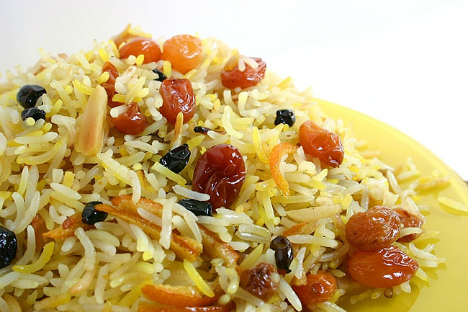 Uzbek Plov. Source: Press Photo
This popular rice dish, adapted to Russian cuisine, is similar to biryani, but a lot easier to make than its sophisticated cousin from the kitchen of Mughal emperors.
I love biryani so much that I order it over the phone for my house several times a month. At every party we go to in Bangalore, biryani is served. It seems like a very easy dish to make, but the dish from the kitchen of Mughal emperors is a sophisticated dish and takes a lot of time and effort to prepare. I want to present to you, another rice dish which I find is very easy to make. The recipe description may seem long but it is really simple and anybody can make it. A vegetarian version is cooked the same way; just skip the meat.
Plov (pulao or pilaf) is a rice dish which is cooked in a broth with meat, spices and vegetables. It is common in most of the Central Asian countries and is a traditional delicacy in Uzbekistan. Nowadays, it is the most popular rice preparation in Russia as well. There are many Uzbek restaurants in Russia which serve traditional plov from a huge Kadai-like pan. Many people make it at home for big parties.
One of the earliest literary references to plov can be found in the histories of Alexander the Great when describing Bactrian hospitality. After Alexander captured the Sogdian capital of Marakanda (which is modern Samarkand, Uzbekistan), he was served plov at a royal banquet. It is believed that soldiers from Alexander's army brought the preparation of pilaf back to Macedonia.
There are so many types, tastes and legends of this national dish. It is the centre piece of Uzbek cuisine, with no single festival or family event being celebrated without it. Each region of Uzbekistan cooks its unique type of the rice preparation.
The main difference in the preparation of Uzbek Plov from similar preparations is that rice is not steamed, but instead simmered in a rich stew of meat and vegetables called zirvak, until all the liquid is absorbed into the rice. Plov is actually similar to Hyderabadi Biryani, while the vegetarian variant would remind one of Indian Pulao.
The non-vegetarian version usually contains four main ingredients: meat (lamb or goat), carrots, onion and rice. I make chicken plov as well, which is not very common for Uzbekistan or Russia. It is better to use the dark meat of chicken; use legs and thighs curry cut. White meat gets too hard during the cooking process.
Ingredients (serves 6-8 people):
500 g rice
250 g meat
250 g carrot
250 g onion
125 g vegetable oil
1 whole unpeeled garlic
1.5 tea spoon jeera
1 tea spoon Kashmiri chilli
1 table spoon raisins (optional)
Salt to taste
The rule of thumb is that you have to take the same quantity (volume) of meat, carrot and onion. The vegetarian version will be the same. The main vegetables should be carrots and onions with addition of any other vegetables of your choice: tomatoes, beans, cauliflower. To make real Uzbek Plov you have to follow three steps:
1. Heat up the oil: the heating should be done in a thick Kadai. Use low flame to bring the oil to the desired temperature. Drop any piece of vegetable to hear a crackle. Oil should not smoke.
2.Prepare zirvak: When the oil is hot enough, add meat cut into 1 inch cubes or chicken / mutton curry cut with bones. Fry to get brown colour. Add onion cut into semi-circles. Fry till golden brown. Add carrots cut into thick Juliennes. Fry all the ingredients for some time and then add the spices and salt.
The main spice is Jeera. It is also recommended to add Kashmiri chilli powder and raisins if desired. In Central Asia it is very common to add Barberries which is a sour berry available in Central Asia, UAE and Russia but not India. It is very important to follow the order of ingredients mentioned. If you are making a vegetarian plov, at this point add the rest of the vegetables.
3. Simmer rice till it is ready: Before you add rice, clean it thoroughly a few times. You could use long grain rice but I am very happy with the Sona Masuri type. Spread it on top of meat and vegetables mixture making sure not to mix it. Slowly add water without mixing other ingredients. The level of water should be approximately half an inch above the rice. Sprinkle a little bit of salt and turmeric powder on water and bring it to boil. Reduce the flame, cover with a lid and leave it to simmer.
4. The final step: when water reduces, take cloves of unpeeled garlic and randomly stick it into plov. Trust me, it will be very tasty, it is my favourite part of the dish. It is also recommended to make holes with a wooden stick. Cover again and leave it on a slow flame until done. Only after that you can open the lid and let it breath.
Uzbek Plov is not served with raita. My favourite addition is tomato and onion salad which is very simple to make. Cut tomatoes into halves and then make very thin slices. Slice onion into semi-circles that are as thin as possible. Season it with salt, black pepper and fresh coriander. There is no oil required because tomatoes will immediately make it juicy.
In Uzbekistan it is common to eat plov from a common plate using the hands.
All rights reserved by Rossiyskaya Gazeta.