The khan of Russian fast food has always been the "cheburek," despite the machinations of foreign pretenders to that throne — hamburgers and döner kebabs. Chebureks are the most popular kind of Tatar food eaten in Russia. They are pasties stuffed with the most tender, minced meat (either lamb or veal) and broth, then fried in butter.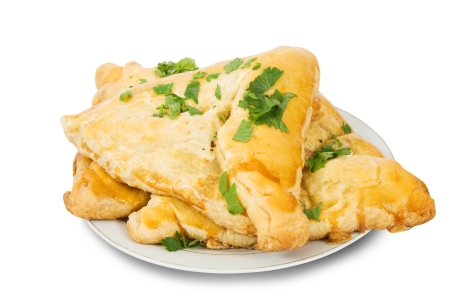 Echpochmak is a triangular pastry, filled with minced beef, onion and potatoes. Echpochmak is eaten with bouillon or with tea. Source: Lori / Legion Media
All Russians will have certainly known of these pastries from their earliest years. They are popular outside Russia too: in the 1950s, chebureks turned up in Finland, being sold under the name "lerstya." They are still going strong there and are regarded as a native Finnish staple dish.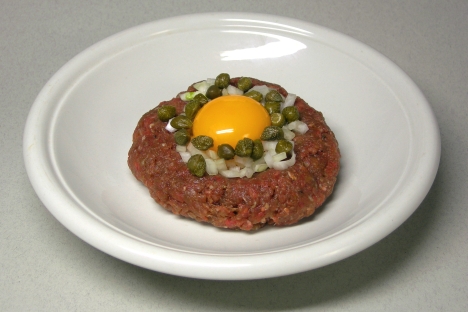 Tartare — a generous portion of raw minced beefsteak, mixed with an egg yolk and flavorsome marinade sauce. Source: Lori / Legion Media
The humble cheburek flies the flag for Tatar cuisine in its home country. Abroad, however, the most famous Tatar dish has always been tartare — a generous portion of raw minced beefsteak, mixed with an egg yolk and flavorsome marinade sauce. The recipe went into European cookbooks under the name "tartare," although, in Tatar recipe books, it is called "steak tartare" and loses none of its national character.
National character in this case means quality: in order to avoid tartare becoming a health risk, there should not be any heat involved in its preparation; all the ingredients have to be fresh and of the highest quality.
The secret to a good number of other simple yet delicious national dishes, including those from Tatarstan, is essentially the same: a minimum of spices and simple preparation methods will have you licking your fingers. This is where Tatars really have just cause for pride; the cattle, which are reared in the Volga region, give their meat a special taste.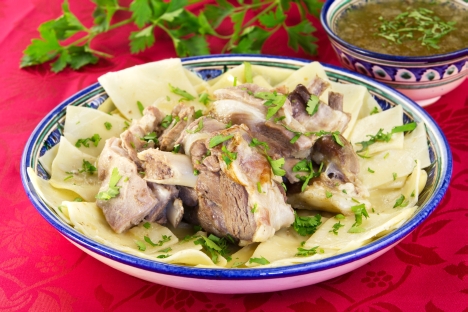 Beshbarmak, the boiled meat, is usually diced with knives, often mixed with boiled noodles, and spiced with onion sauce. It is usually served in a big round dish. Source: Lori / Legion Media
While Tatarstan cuisine may lose out to that of its fellow Turks in terms of sophistication and variety — particularly Turkey and Azerbaijan, where Turkish and Persian culinary traditions combine — it remains one of the leaders in bread in Russia.
Dough-based delicacies are the signature dishes of Tatar cuisine. As well as the chebureks mentioned earlier, Tatar cuisine includes hundreds of different pies, pastries and other kinds of baked goods. Pastry foods accompany the Tatars from birth to death, and many of the dishes have special ritual associations.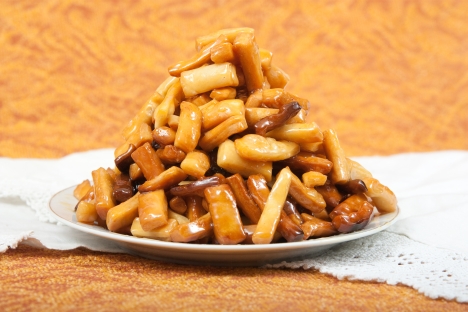 Chak-Chak is made from unleavened dough cut and rolled into hazelnut-sized balls, which are then deep-fried in oil. Source: Lori / Legion Media
Even the beloved Russian dish of stuffed goose turns up in Tatarstan in its own special form, baked in pastry. Meanwhile, on the shelves of Russian shops, chebureks have their own competitors in the pastry kitchen in the form of "chak-chak" — a fried wheat-pastry dessert soaked in honey. However, chak-chak is particularly popular abroad.
Despite the popularity of many Tatar pastries, the main Tatar pie has always been the "gubaidia" — a hearty pie (made with meat, of course) gracing the Tatar table on especially festive occasions. Let's try and make one!
Gubaidia — A festive Tatar pie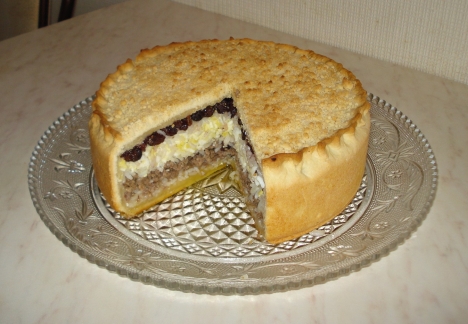 Gubadiya is a wedding pie with layers of meat, rice, chopped eggs, raisins, and dry white cheese. The equivalent of the eponymous dish in the cuisine of Volga Tatars. Source: Lori / Legion Media
Make enough pastry for a large pie. The type of dough is up to you — plain or yeast.
Kystybyi is roasted flat cakes with various fillings inside. Source: Lori / Legion Media
You will need to make some "kort" — a special Tatar ingredient that you can use in other dishes too. Take 1 quart of milk and add 7 ounces of any fermented milk product (such as plain yoghurt). Wait 2–3 hours, until it curdles. Simmer over medium heat until the protein begins to turn red, and then add 2 tablespoons of sugar. Drain the boiled milk protein: you should be left with a red-colored product.
Cook some rice al dente. Hard boil, peel and chop some eggs. Put some young lean beef or mutton through a meat grinder, and then lightly fry with chopped onion and black pepper. Scald some raisins, apricots and prunes in a separate pan. Thinly roll half the dough on a floured work surface (thickness should be less than half an inch), and then line a well-greased deep-dish pan.
Put the filling into the pie in layers: first some rice, then some kort, then some meat, then the egg and fruit. Finally, put a mixture of rice and fruit on the top; place some butter cubes on top. Now place the other half of the rolled dough on the top: make some attractive patterned cuts in the pastry, a few holes for the steam to come out, and brush with a beaten egg. Bake at 355 degrees, until the pastry is just browned and no steam is coming out of the holes.
Video: Enjoy masterpiece of Tatar cuisine. Source: RBTH
Read more about the Russian national cuisine here.
All rights reserved by Rossiyskaya Gazeta.