Having the ultimate destination wedding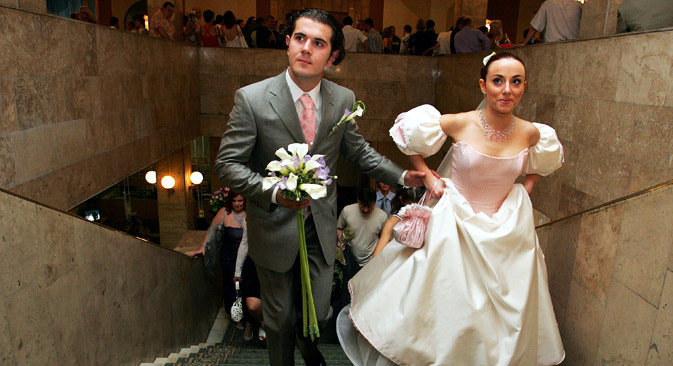 Russian weddings sometimes attracts attentions of foreigners who have their weddings there for many reasons - from the sense of adventure to the duty of religion. Source: ITAR-TASS
Foreigners share their experiences of tying the knot in Russia, claiming they have something to brag about to their friends who got married at home.
"Russians love to have fun," said Briton Michael Moore, explaining why he opted to marry his Russian sweetheart, Olga, in Moscow last month. "Back in the U.K., we would have had dinner and talked about the weather, but [Russians] have so many dances and competitions. Someone dressed up as a bride, another made me drink a whole glass of vodka; people were cracking jokes and having the time of their lives."
According to Irina Muravyova, head of Moscow ZAGS (the government agency that registers marriages ), 14 percent of all marriages registered in Moscow in 2012 involved foreigners. Citizens of 116 countries were married in Moscow last year; the countries boasting the most nationals married in Moscow were Turkey, Germany, Israel, the U.S., the U.K., Italy, Afghanistan and France.
Getting married in Russia is a chance for some foreigners to receive residence and work permits. Moldovan Sasha Berko said that, when he started dating Anna, he had to cross the border once every three months to have his visa extended. He applied for a temporary residence permit five times, but his application was rejected. Finally, he proposed to Anna. Being married to a Russian will make it easier for him to live full-time in Russia.
For many, getting hitched in Russia is a real adventure — an adrenaline buzz that they can brag about to their friends later.
Bulgarian businessman Ivaylo Gotsev said: "It's something of a status symbol if you live and work in Russia. But it's something else entirely if you get married here: it's like winning a medal."
Although economist Katya Korolkova married her Ecuadorian boyfriend in Denmark, they had their church wedding in Russia.
"We are both Catholics. We take our marriage very seriously, so it was important for us to have a church wedding. The ceremony was held in Russia, because I wanted to celebrate in Russia before moving to another country," said Korolkova. "My husband wanted to experience exotic Russian traditions, but I didn't want to scare the guests — there were many foreigners."
"They had expected lots of vodka and thought that the Russians would get drunk, but it was the Germans that got wasted instead. The Italians were wondering why we weren't eating much and why we didn't shout 'Gorko!' [the signal at Russian weddings for the bride and the groom to kiss] very often. Food is a very important part of Italian weddings, and the bride and groom kiss almost every minute at Italian weddings. The Ecuadorians were just happy: we were dancing a lot, and dances are always top of the menu in Ecuador," Korolkova said.
It is usually not hard for foreigners to register their marriages in Moscow. Those who do not need a visa to come to Russia can have their marriage registered in any Moscow ZAGS office. Everyone else has just one option — Wedding Palace No.4 in the northern part of Moscow.
The staff of Wedding Palace No.4 advises couples to personally consult with specialists in order to learn exactly which documents are required for them to get married. The staff also discusses the details of the ceremony with every couple.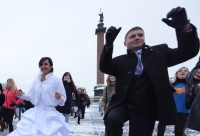 "My husband is an Arab. They demanded his birth certificate and passport with a valid visa," said economist Nastia Romalovskaya, who got married in April 2012. "He had to obtain a certificate in his home country stating that there were no legal reasons preventing him from getting married and that he didn't already have a wife. The documents had to be translated into Russian, apostilled and notarized.
Norwegian Tor Slaten praised the entertainment at Wedding Palace #4: "There is a band there that plays live music, and they know lots of tunes. It was a pleasant surprise when they said we could choose the song for our ceremony."
German physicist Joerg Brachman had a different surprise when he married in Russia. Before his wedding, a guest joked that no Russian wedding was complete without a fight. The German thought there was no way to avoid the tradition and worried the whole night that a fight could start at any minute. After a few toasts, he felt brave enough to jump into action, but he had no idea where to start. He now recalls with some regret that there were no fights that night.
All rights reserved by Rossiyskaya Gazeta.