Meteorite triggers wave of humor on the Russian web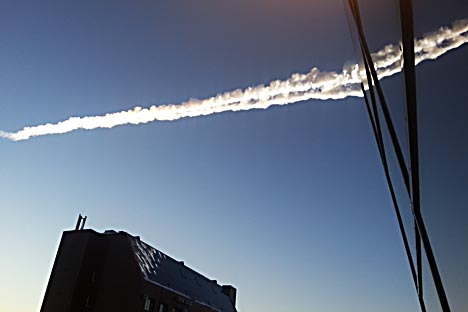 A contrail is seen over Chelyabinsk on Friday, Feb. 15, 2013. Source: ITAR-TASS
It took no more than a couple of hours for the meteorite in Chelyabinsk Region to generate a wave of gags and Internet memes.
The meteorite that fell to Earth in Chelyabinsk Region unleashed a flood of jokes on Russian-language social networks, with the Russian word for "meteorite" shooting to international levels as a hashtag. Jokes included references to the Mayan calendar, Transformers, Chuck Norris, and the Russian Postal Service.
It took no more than a couple of hours for the meteorite in Chelyabinsk Region to generate a wave of gags and Internet memes.
"Nothing makes you as bright as your morning meteorite" was re-tweeted nearly 3,000 times. A weather forecast spoof suggested "…and in Chelyabinsk there'll be ice, wind, and light meteorite showers."
People joked that there could be an asteroid strike, as well. Someone quipped that Chuck Norris threw a cigarette butt while flying over Chelyabinsk. Others suggested that the event signified the announcement of the new pope.
Meanwhile, there were versions saying that the "End of the World," as prophesied by the end of the Mayan calendar, was just running behind schedule a little.
In particular, the Russian-speaking Twitter community outdid itself. Dozens of accounts were opened on behalf of the meteorite itself. The most popular of these accounts was @Che_meteorit, with more than 1,000 followers. The meteorite gave details of its origins on its profile and answered rhetorical questions.
"People say the emergency services are looking for me. I'll try to send out a signal. But I don't know where I am, I repeat, I'm not from around here, I don't know your local geography," tweeted @Che_meteorit, taking the chance to mention that his brother and dad would be coming our way very soon.
The account for "his brother" is @chelmeteor: He is asking for information about his brother's early arrival and seeking to deny rumors about himself. When asked about a photo collage with President Putin, @chelmeteor replied: "That ain't me. I'm no white crane!"
Top 5 Meteorite Jokes:
@Nikolay_Belkin:
Looks like the Transformers mistook products of the Urals Weapons Plant for Decepticons #meteorit
@Kostya_Ivanov: Chelyabinsk blokes are so harsh that when they make a St. Valentine's Day promise to reach down the stars from the heavens for their girlfriends — the stars actually drop. #meteorit
(Russians have a popular genre of jokes that start: "Chelyabinsk blokes are so harsh that...". They all stem from the idea that Chelyabinsk has pretty tough living and working conditions.)
@SvetaOfficial: Just yesterday three Russian football clubs won their European League matches — due to the upset in the planet's cosmological balance.
@raspivina: The Russian Postal Service delivers late as usual, and to the wrong address as well. #METEORIT #chelyabinsk
(This joke is a reference to the fact that the meteorite should have fallen on December 21, 2012 — the date of the End of the World, according to the Mayan calendar.)
@dimavrn: Meteorite dwellers view approach of Chelyabinsk with alarm.
All rights reserved by Rossiyskaya Gazeta.