Russia celebrates its men on Army Day
By Ekaterina Turysheva
On Feb. 23 in Russia, the "stronger sex" has the legal right to receive congratulations and gifts from their fairer counterparts. This is Defenders of the Fatherland Day, but not only those who have served in the military are celebrated on this day. It has become in effect, the male equivalent of International Women's Day, which is celebrated on March 8.
After the fall of the Soviet Union, several former Soviet republics declined to continue to celebrate this holiday. Today it is observed only in Russia, Belarus, Ukraine and Kyrgyzstan.
Although International Women's Day was imported from the West, Defenders of the Fatherland Day is a completely Russian construction. Why is this holiday celebrated on Feb. 23? During the Soviet era, Feb. 23 was celebrated as Red Army day because it was on this day in 1918 that the Red Army won its first victory over German forces at Pskov and Narva.
However, there is one small historic detail that must be noted here: on the evening of Feb. 23, 1918, the German forces were 35 miles from Pskov and 105 miles from Narva and there is no evidence in either Russian or German archives that there was any fighting between them on that day. For 20 years, this myth persisted, but then during World War II, the idea of a day celebrating the first victory of the Red Army over German forces took on a broader significance.
From 1949 until 1990, then, Feb. 23 was officially known as the Day of the Soviet Army and Navy. Today the date of this holiday remains the same – but the name has changed. In the 1990s, the day was known for some time as Russian Army Day and it was not an official holiday, but in 2002, it again became a public holiday and was given its current name: Defenders of the Fatherland Day.
Although all men, not just those who have served in the armed forces, are celebrated on Feb. 23, military themes dominate the day. Concerts of military music are given and many people dress up in military-style clothing or uniforms.
One interesting fact to further add to the confluence of Feb. 23 and March 8 is that under the Julian calendar, which Russia used until 1918 and is 13 days off the Gregorian calendar in use today, March 8 was Feb. 23.
Like March 8, Feb. 23 is marked by the giving of small gifts. Although men say they prefer creative or useful gifts, the most common gifts are colognes and socks.
Because of this, some Russian men have given the day the unofficial name of "The All-Russian Day of Shaving Cream." Recently some of them have tried to organize a kind of protest, stocking up on shaving cream, cologne and aftershave just before the holiday in order to force the women in their lives to think outside the box when choosing a gift.
At the office, some creative takes on Feb. 23
By Vladimir Erkovich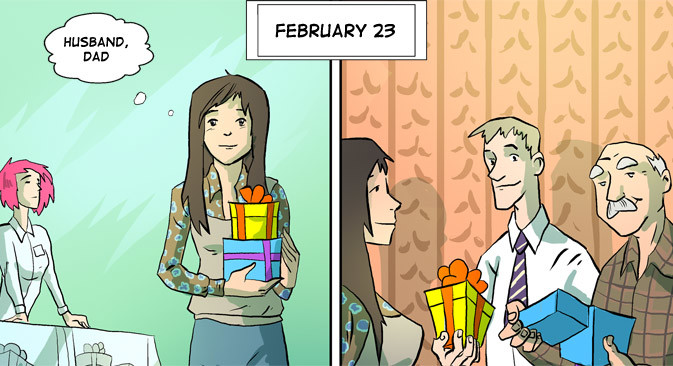 Russia's most significant holidays are celebrated at the workplace – birthdays, a successful contract, Friday. Most often, a table will be laid with alcohol and various snacks, and work colleagues devise entertainment for their compatriots. There are two unmissable calendar dates in this annual round of celebrations: Feb. 23 and March 8.
On the eve of these holidays, offices divide by gender and secretly plan how to celebrate the respective days. Since Feb. 23 comes first, women raise the stakes so that men will not forget to celebrate them properly two weeks later. RBTH asked several men how Feb. 23 is celebrated in their offices. Here are some of the more, well, creative answers.
Sergei, computer programmer:
A couple of years ago on Feb. 23, two girls appeared around lunchtime in our office, wearing short skirts. They wheeled in a cart filled with the kind of food you would traditionally be served in the army. Then we all got on a bus and "headed for the front" – a paintball range.
For March 8, we got all the girls bouquets of flowers, and then sent them off to a spa.
Alexander, sales manager:
Last year at the end of the work day on Feb. 23, we had a celebration with beer, sausages, chips, crackers and pizza – guy food. Then we divided into teams and the girls gave all the guys really cheap shaving cream as a present, just for a laugh. Then they gave us our real presents – everyone got a soccer ball. I don't think anyone took the shaving cream home; the tubes were hanging around the office all year.
On March 8, all the girls got bunches of flowers, and we made a space in the office to have some champagne
Semyon, journalist:
I used to work for a small publishing company, and one year the girls surprised us by getting a stripper in along with a festive table set up in the office with vodka, champagne, pickled cucumbers and sandwiches. We watched the whole thing in stony-faced horror wondering how we could get them back. We discussed taking the girls to a sauna for March 8, but in the end we just got them bouquets of tulips
Kirill, editor:
Where I worked, we had lots more men than women at the office and one year the girls didn't organize any celebration for the boys at all. We had already begun collecting money for an event on March 8 and we went ahead and bought presents for them as planned. After that, we thought we could expect a proper celebration the next year, but they didn't organize anything that year either. We asked them why they were ignoring our holiday and they just replied that there were more of us than them.
All rights reserved by Rossiyskaya Gazeta.