Vladislav Surkov reveals his love for Indian cinema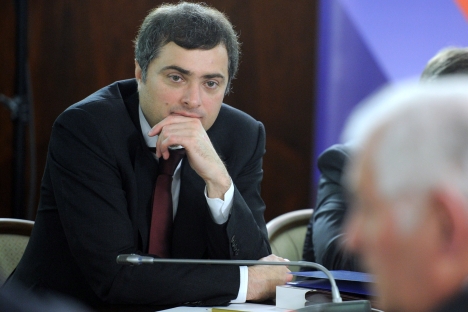 Russia's Deputy Prime Minister Vladislav Surkov. Source: RIA Novosti
The Russian deputy prime minister writes nostalgically about his childhood when he regularly went to watch Bollywood movies.
Deputy Prime Minister and Chief of the Government Staff Vladislav Surkov revealed his affection for Indian movies, saying that there is a clear line between the good and evil in Bollywood films, and there is always the "hope that a miracle may happen."
Echoing the views of many Russians who were raised during the Soviet period, Surkov said he loved Indian movies" when he was a child. "I love Indian cinema now, but I'm a secret admirer, because it's not a common thing for my circle to watch Indian movies. But back then I had a different circle of friends, and they understood my passion. We bought tickets to Ram Aur Shyam and sat in the eighth row at the Oktyabr Cinema (not the one in Moscow, of course)," Surkov wrote in his column for Russki pioner magazine.
He described the types of viewers in the audience. Goons with sunflower seeds would sit up front, couples sat in the back row and "real cinema lovers" – mostly students and women in their thirties and forties – sat in the middle.
"God knows why Russian women cry when they watch TV, cuddle with their kids or stir boiling fish soup in a pan! But they were simply shocked to see that those noble, handsome and moderately obese Indian men were all non-drinkers. It was not just a rare phenomenon for our country – it was something out of a science fiction story," Surkov wrote.
He goes on to say that there were no non-drinkers then and "drinking only on red-letter days" was considered an impossible achievement.
Surkov explained what attracted him the most about Indian films: "To start with, there is a clear line between good and evil. There's always a triumph of moral simplicity, and there's an uncomplicated ethical dilemma […] Second, the classics about lost children or babies mixed up at birth always implied that there's hope that a miracle may happen. A poor boy from slums could turn out to be the lost son of a maharaja or the nephew of an incredibly rich merchant – after he had had his fair share of trouble, of course. But then the truth is revealed, and the astonished hero moves from the gutter to a palace and marries the girl that he was afraid even to look at."
The Russian Deputy Prime Minister added that he owes his best qualities to Indian movies.
First published in Russian in RIA Novosti.
All rights reserved by Rossiyskaya Gazeta.