First female helicopter squadron: Light on their wings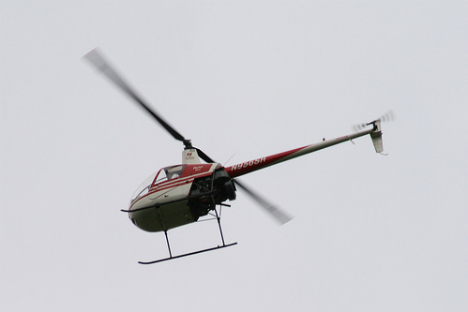 The first female helicopter squadron named The Hummingbirds has sprung up in Russia. Source: Press Photo
The Hummingbirds squadron comprises of elite women pilots who have demonstrated tremendous flight control skills.
The first female helicopter squadron named The Hummingbirds has sprung up in Russia. Its name seems to be the best for this unit. There are five Russian beauties in this team. They can leave many experienced male pilots behind in flight control skills.
The attitude to the first female squadron In Russia is very special. This team was built on the basis of two companies, Russian Helicopter Systems (RHS) and Russian Helicopters. RHS press-secretary Azad Karriyev explained why Russia needs The Hummingbirds and who they are in an exclusive interview with The Voice of Russia:
"The members of the team are Yekaterina Oreshnikova who is a well-known Emergency Ministry pilot, Evgenia Kurpika who is the European absolute champion in the helicopter sport and three current cadets of the training centre. Traditionally, aviation is considered something sacred, the lot of iron-handed men. It is true that flying aircraft requires very serious training but at the same time the helicopter is a transport available to everyone. Our aim is to make helicopters and the helicopter sport popular."
Karriyev says that after the plan of creating a female helicopter squadron was announced there was a shower of applications to be trained as a helicopter pilot. Yekaterina Oreshnikova who is a member of the team also started her career from scratch. Now she is the only Emergency Ministry female pilot. She took part in dozens of difficult rescue operations.
Oreshnikova told The Voice of Russia that she could not imagine her life without flying: "Helicopters are my career and my life. I don't believe that careers can be male or female. If you enjoy it and feel in demand you are on the right track. Sadly, women very rarely fly aircraft at present. I'm glad that we are reviving the traditions of the past when female pilots abounded in the Air Force and did their job well."
The formal presentation of The Hummingbirds is still ahead. It is due on March 8 when Russia marks International Women's Day. The Hummingbirds will be welcomed by The Golden Eagles, pilots of the Russian Air Force helicopter aerobatic team. They are the only ones to perform aerial stunts aboard combat aircraft in Russia.
First published in the Voice of Russia.
All rights reserved by Rossiyskaya Gazeta.