Chakravarti Rajagopalachari and Soviet nuclear weapons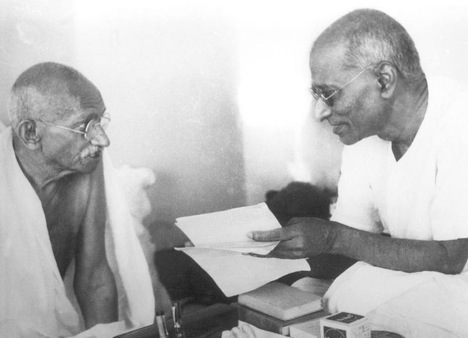 Gandhi and Chakravarthi Rajagopalachari in Mumbai, September 1944. Source: gandhiserve.org/wikipedia.org
The Indian statesman tried in vain to convince Nikita Khrushchev to commit unilaterally not to use nuclear weapons. Their correspondence remained incomplete.
Prominent Indian politician and statesman Chakravarti Rajagopalachari (1878–1972) was one of the first people to condemn the manufacture, accumulation and testing of nuclear weapons. In November 1957, he sent a letter to Nikita Khrushchev reminding him of their meeting in 1955 in Madras during an official visit by a Soviet government delegation to India. In his letter, he urged the USSR to commit unilaterally not to use nuclear weapons in the event of war. "The moment has come when your Republic could win eternal glory if it made a step of great historic importance," the letter said.

Although Rajagopalachari did not hold any government position at the time, the Soviet leader sent him a reply the following month. Khrushchev thanked the Indian peace activist for his high appraisal of the Soviet Union's international role and made critical remarks about the Western nations' response with regard to improving the international situation.

In a letter to Khrushchev dated December 10, 1957, Rajaji touched on the subject of the Cold War. "Suspicion is the spirit and the essence of the Cold War," he wrote. "The first side to take decisive action will put an end to this. This is not risk-free. But we cannot stop the Cold War unless we take a risk."

In his New Year's Eve reply, Khrushchev confirmed that the Soviet Union had already reduced its armed forces, thereby setting a good example for anybody who doubted the sincerity of its intentions. "We are confident that, if our unilateral actions receive support from the Western countries, this will not only help improve the overall situation, but will also pave the way for more initiatives aimed at liberating humanity from the threat of a nuclear war," he wrote.

Their correspondence stopped right there. It was not included in the collection of Rajagopalachari's articles, speeches, and statements issued in Moscow in 1958 under the title 'The Humanity Protests'. The preface to the collection stated that the author "sometimes uncritically repeats the bourgeois propaganda lies about the Soviet Union and its internal and foreign policy and also formulates certain other theses with which Soviet readers cannot agree."

Rajagopalachari visited New York, London, and Rome in 1962 on a peace mission. US President John Kennedy received him and they had a 20-minute conversation. Rajaji was also planning to visit Moscow but the Soviet Foreign Ministry refused to grant him a visa.
All rights reserved by Rossiyskaya Gazeta.