Russia women's field hockey team visits India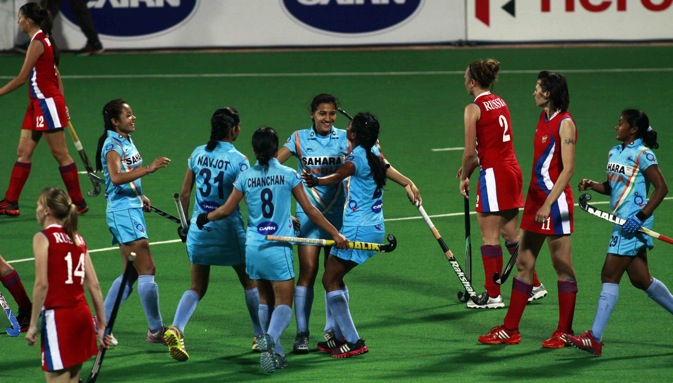 By the last match, the Russian team had a tall target to beat the undefeated Indian squad with a margin of four goals in order to qualify. Source: Press Photo
Playing in the FIH Hockey World League introduces the Russian women's team to India and its capacity to amaze and shock.
Russian goalkeeper Oksana Serezhkina has memories of a busy time in New Delhi dealing with either the charge of strikers in the competitive field of play or the barrage of people in the bustling market of Connaught Place. "There are just too many people!" she exclaims as she begins to describe her experience of visiting a country which is very unlike her own, "It is my first time in India and this place is very different from what I've ever experienced."
While Delhiites are coping with the bitter-sweet chill of late February, the weather is a tad too hot for the Russian ladies and the cuisine even more so. Asked to be a translator for her non-English speaking teammates Oksana quips, "May be I should do that after dinner and then I'll have plenty of emotions to describe."
Public spaces crammed with people, sometimes even animals, and roads jammed with haphazard traffic give them a first impression of shock. Such a reaction is natural for any unprepared visitor. It is clear that they are here for work and not necessarily subscribers of the various charms which draw international tourists to India. Wary of people bothering visible foreigners, they set out for souvenir shopping in small groups and never alone.
Visiting teams rarely get enough opportunities to travel around due to the hectic tournament schedules. However an excursion to Taj Mahal is sort of a tradition for all guests. Oksana recalls being surprised at the sight of camel carts and tongas—horse-drawn carriages ferrying tourists from the parking lot to the mausoleum complex, "I didn't know that animals were still being used for transportation." The first view of the Taj itself, though memorable, falls a little short of absolute wonder, "It is extremely beautiful. I can't imagine how such a magnificent building was constructed. But I guess I was expecting more of a jaw-dropping sight. I wish there actually was a black Taj Mahal alongside with a bridge across the river," she has clearly been engrossed in their guide's anecdotes. When asked if there is any other place which she would like to visit, she quite expectedly answers—Goa—"so many of my friends talk about Goa."
While going around in Indian cities presents a lot of surprises for the Russian ladies, playing in one of the finest field hockey facilities in the world has them amazed. Oksana confesses being impressed by the Dhyan Chand National Stadium, the venue for the second round of world cup qualifiers, "We haven't seen such a huge stadium anywhere in Europe. There should be such a place in Russia as well," she wishes. She also notices that there are very few spectators during the women's matches. Like ice hockey overshadows the field version in Russia, the men's league has far more followers than the women's sport in India.
At the onset the two top seeded teams of Japan and India were marked as favourites to qualify while those of Russia, Malaysia, Kazakhstan, and Fiji were expected to compete well. The Russian ladies did a commendable job coming very close to defeating Japan when a rising backhand shot by Tamara Ivanova levelled the game. It took the fifth round of shoot-outs to tilt the balance in Japan's favour. The Indian team faced a similar fate against Japan. By the last match, the Russian team had a tall target to beat the undefeated Indian squad with a margin of four goals in order to qualify. The Russian team's journey to the tournament semis was over but not till the potential of the likes of Oksana Serezhkina, Tamara Ivanova, Maria Nikitina and Ekaterina Shaburova was acknowledged. And, curiosity about a distant culture was established.
Oksana is particularly awed about the legendary feats of Major Dhyan Chand—the magician with a hockey stick for a wand, "I wish there was someone who could tell us all of this and a lot more which I want to know. Why do some women in the Indian squad don't use their second names? How independent and empowered are Indian women?" she has a lot of questions. Having arrived with no prior knowledge about the place she was overwhelmed by a land in stark contrast to her own. After about a month long stay she has surely received a powerful impression and has also made some new friends to keep in touch, at the very least, through Facebook.
All rights reserved by Rossiyskaya Gazeta.