Senior Russian diplomat holds photo exhibition on Indian life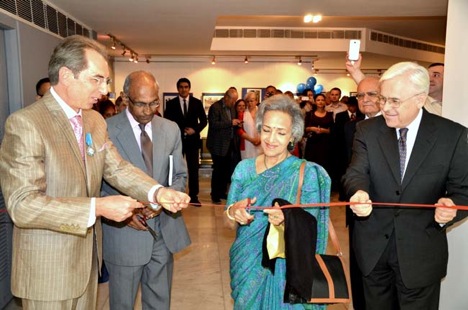 The exhibition, which was jointly organised by the Russian Centre of Science and Culture (RCSC) and the embassy, was a virtual reflection of Indian life "through Russian eyes." Source: rusembassy.in
Exhibition of photographs taken by Sergey Karmalito focuses on various facets of Indian life through "Russian eyes".
Sergey Karmalito, senior counsellor at the Russian Embassy in Delhi displayed his photographic talents at an exhibition in the Indian capital titled "Imagining Karma Bhumi." The exhibition, which was jointly organised by the Russian Centre of Science and Culture (RCSC) and the embassy, was a virtual reflection of Indian life "through Russian eyes."
The occasion also marked the celebration Karmakito's 60th birthday and the former journalist's 20th year of working in India.
The photos displayed at the exhibition brought into focus different facets of Indian life spanning the broad urban and rural ambiance of the country, significant political developments, and photographs of distinguished personalities such as Indira Gandhi, Radjiv Gandhi, Svyatoslav Roerich, Valentina Tereshkova, and others.
There are also photos of pilgrim centres, tourist spots, important dignitaries in different walks of life, stretches of landscapes, religious destinations, architectural landmarks, and others. A large gathering attended the function, including Alexander Losyukov, former Russian Deputy Foreign Minister, Doulat Kuanyshev, Ambassador of Kazakhstan to India, Krishnan Raghunath, former Indian Ambassador to Russia and Achala Maulik a former Indian civil servant who is also a well-known author.
Denis Alipov, Minister-Counsellor, read out and handed over to Karmalito a Letter of Honour, signed by the Russian Foreign Minister, Sergey Lavrov, in appreciation of his meritorious services.
Both Indian and foreign dignitaries in their brief remarks lauded the commendable services of Karmalito in his capacity as a journalist and diplomat, which contributed to the strengthening of Indo-Russian relations.
Distinguished international career
Sergey Karmalito, after graduating from the Institute of Asian and African Countries, Moscow University, joined TASS News Agency in 1976. After a brief spell in New Delhi as a trainee, later he worked as a Correspondent and Chief of Bureau of TASS from 1980 to 1993. He served as Editor-in-chief of ITAR-TASS News Service and Domestic News Department of the ITAR-TASS Head Office in Moscow. During 2006-2009, he was the Chief of Bureau of ITAR-TASS News Agency in India, New Delhi.
Throughout his career, he authored hundreds of news reports and articles on political, economic, cultural life of India other matters. Member of the Journalists' Union of Russia, he was decorated with the title of the Honoured Cultural Worker of the Russian Federation, and one of the highest Russian civil awards—Order of Honour. Since November 2009, Karmalito is serving as Senior Counsellor at the Embassy of the Russian Federation in New Delhi.
All rights reserved by Rossiyskaya Gazeta.