Maslenitsa in London: Family fun with Russian pancakes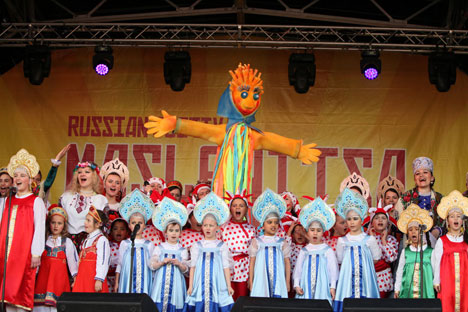 The biggest event is at Trafalgar Square on Saturday March 16, when the crowd can feast on traditional blini pancakes as they enjoy a wide range of entertainment. Source: Corbis
Maslenitsa, the Russian sun festival celebrating the end of winter and start of spring, will be held again in London from March 11-17.
London's Maslenitsa festival has become the biggest Russian cultural event outside Russia. In 2012 more than 100,000 revellers gathered in Trafalgar Square to celebrate the traditional Orthodox shrovetide event. And in the run-up to the 2014 Winter Olympics in Sochi, this year's festivities will be even bigger and better.
London Mayor Boris Johnson said: "We have a big Russian population here in London, and this fantastic festival gives everyone a chance to join in with a major cultural celebration of that magnificent country."
Celebrations begin on March 11 with a fashion show by Russian designers at the Victoria and Albert Museum. The focus will be on a collection by the celebrated designer Igor Chapurin. And on Tuesday March 12, Mari Vanna restaurant will present an evening of Russian cuisine.
Visit Waterstones bookshop on Piccadilly the following day for a perfect chance to find out more about Russian culture. Actors from Moscow's Praktika Theatre will present readings from Russian classic and contemporary literature.
There are also masterclasses for those of a less literary persuasion: try your hand at traditional Russian crafts at the Rossotrudnichestvo Cultural Centre in Kensington High Street.
The biggest event is at Trafalgar Square on Saturday March 16, when the crowd can feast on traditional blini pancakes as they enjoy a wide range of entertainment. The festival concert will feature performers including Buranovskiye Babushki, runners-up in last year's Eurovision Song Contest.
The festival ends on March 17 with Praktika's Babushki at the Duke of York's Theatre. The show looks at life in Russian villages of the 20th century through contemporary eyes.
Find more information on the website Maslenitsa in London.
Source: Youtube
All rights reserved by Rossiyskaya Gazeta.