Moscow's Regina Gallery closes its London venue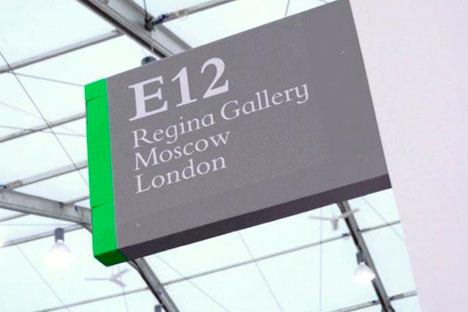 Regina London opened in April 2010 with a personal exhibition of Semyon Faibisovich, and its final exhibition will take place in early April 2013. Source: Courtesy of Regina Gallery
Vladimir Ovcharenko, the owner of one of Moscow's oldest and most successful art galleries, is shutting down his London gallery this spring. Ovcharenko, who has actively promoted Russian and Ukrainian artists in the past, now intends to focus on promoting modern art in Russia.
Regina London, the British branch of Moscow's Regina Gallery, will close this spring, as owner Vladimir Ovcharenko plans to shift his focus to Russian art.
"The reason why the gallery will be closed is the focus on Russian art and its enormous potential," Ovcharenko told RIA Novosti.
Regina London opened in April 2010 with a personal exhibition of Semyon Faibisovich, and its final exhibition will take place in early April 2013.
Ovcharenko has actively promoted Russian and Ukrainian artists during the three years that the London gallery has been in operation, featuring artists such asViktor Pivovarov, Sergey Bratkov, Pavel Pepperstein, Alexey Kallima, Oleg Kulik, and many more.
Ovcharenko has stated that, when he opened the gallery in London, he was not only thinking about how to attract customers; he was also thinking about ways to help artists develop. At Regina London, artists received the chance to have two exhibitions per year, instead of one, and their work was seen by curators and various other important figures in the art world.
"We have an excellent roster of artists, although we are not trying to represent Russian art as a whole — we have no such ambition. But creating a buzz around Russian art will only benefit it," Ovcharenko told Kommersant in 2010, in an interview prior to the gallery's opening.
"We have a duty to explore new customers and keep working with the customers we already have. Regina Gallery is in central London, on Eastcastle Street. There are three more British galleries on the same street. We have a better chance of having important curators and collectors visit our gallery and see our artists in London than [we do of] having them visit Moscow," Ovcharenko said at the time.
"The Russian market has excellent prospects. London and Moscow are like twins, and the fact that we are opening a gallery in London doesn't mean that the Moscow gallery will take a back seat. If the London experience proves successful, we will think about further expansion," he added.
Recently, the gallery owner has been paying more attention to a new project of his — the non-commercial Red October Gallery (at Moscow's Strelka Institute), which he created together with Guta Group. Although the gallery opened only half a year ago, it has already hosted a number of landmark exhibitions, including displays of works by Ilya and Emilia Kabakov.
"This [modern art] segment is sparse, insufficiently promoted, underfinanced and gets too little media coverage — we are behind in every aspect. We have no educational institution to train modern artists, no auctions for modern art, few galleries and a limited number of good artists. We don't even have a museum to speak of. I believe that this new site will draw some new people to modern art," Ovcharenko told Bolshoi Gorod magazine.
The Moscow Regina Gallery, which is now located at Winzavod Center for Contemporary Art, is one of the oldest and most successful modern art galleries in the city. Vladimir Ovcharenko is the only Russian gallery owner to participate in the most important Western art fairs on a regular basis.
All rights reserved by Rossiyskaya Gazeta.