Russian Kitchen: Sharlotka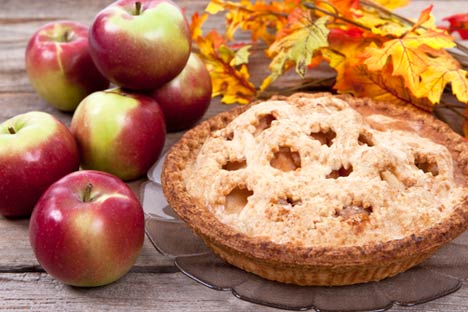 Russian Sharlotka is one of the most popular pies in Russia. Source: Getty Images / Fotobank
The Russian version of Apple Pie is different from the American version and there's a beautiful story behind this delicious dessert.
The standard apple pie is a fruit tart with a flaky pastry on the bottom and baked apples seasoned with cinnamon on top of it. The Russian version, Sharlotka, is an entirely different dish with a beautiful story behind it.
Charlotte, or in Russian - Sharlotka, is one of the most popular pies in Russia and it's so simple to make that even my 5 year old son can manage it.
Russian Sharlotka was invented in London in the 19th century by French Cook Marie Antoine Careme, serving to Russian Tsar Alexander 1. In the beginning the name of the dish was Charlotte à la Parisienne (Parisian Sharlotka). Later on, the dessert became famous all over the world by the name Charlotte Russe.
There are few other versions of the etymology of the name. According to one of them, the root of the name comes from English "Charlyt", which means dessert made of eggs, milk and sugar. My favourite version, which is probably less accurate, is a love story about a simple cook. He fell in love with a woman named Charlotte. He created this dessert to attract the woman dear to his heart.
To make the original dessert, you need to lay the form with crushed cookies, add Bavarian cream and then finish with whipped cream. After that you have to put it in the fridge to cool down and to make it hard.
During the Stalin era, as a part of "Anti-Western campaign" the above mentioned dessert was renamed as Apple "Babka" (old woman).
I am sure that the recipe of apple pie that is so dear to every Russian has been modified during the Soviet period, due to a shortage of the ingredients. We ended up with an extremely simple dessert made of apples, eggs, sugar and maida. But sometime simple is genius.
Ingredients:
Eggs 3 pc
Maida 1 cup
Sugar 1 cup
Apples (better to use hard and sour variety) 1-1.5 pc
Baking powder 2/3 of tea sp
Instructions:
1. Beat eggs as much as possible. The more you whisk the better. In fact, when my grandma used to make it, she would use a simple fork and whisk continuously for 30 min. Her pie was perfect. I don't have this much dedication.
2. Slowly add sugar, baking powder and then maida. Don't whisk too much on this stage. Just make smooth batter.
3. Cut the apples into half inch cubes removing the seeds. Don't worry if they are getting dark. In fact, when apples become dark, they are easier to digest.
4. Smear the baking form with melted butter and sprinkle with bread crumbs on the bottom and on the sides. I prefer to use a silicon form.
5. Lay the cut apples and pour ready batter on top of it. Don't worry if it is uneven, it will get perfect while baking.
6. Put the baking tray in preheated oven at 180'C for 40 - 50 minutes. It's ready when by sticking a wooden toothpick there no dough stuck to it. Please don't open the door of the oven while baking. The pie can collapse.
Advice: The better portion is 1.5 times of the ingredients mentioned in the recipe. It can be served with ice cream or whipped cream. For me, it tastes great the way it is.
Priyatnogo appetita!
All rights reserved by Rossiyskaya Gazeta.