British Chekhov production meets with high acclaim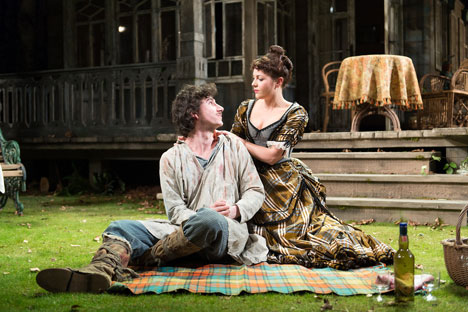 William Postlethwaite and Catrin Stewart in Longing. Adapted by William Boyd from Anton Chekhov short stories. Source: Manuel Harlan
William Boyd's new play Longing, based on two short Chekov stories, is a sell-out success in London.
Londoners just can't get enough Chekhov it seems. A new comedy wrought from Anton Chekhov's short stories sold out in just a few days at the Hampstead Theatre. And there were queues to get hold of the return tickets. No doubt the star-studded cast – which included Tamsin Greig, Iain Glen and John Sessions – helped to pull in the punters.
Life as we live it
This was best-selling novelist William Boyd's first foray into drama. A Chekhov enthusiast, he wrote an alphabetical lexicon of Chekhov to mark the hundredth anniversary of the writer's death. Boyd notes that unlike previous authors, whose plots were powered by events, Chekhov abandoned the self-conscious story for "something more casual and realistic … This is why Chekhov's stories still speak to us a hundred years on … They are like life as we all live it."
Boyd used the short story, A Visit to Friends, published in 1898, as the basis for his play. The plot revolves around provincial friends and sisters: Varia, Tania and Natasha. They invite Kolia, a successful Moscow lawyer they knew in happier days, to visit them on the crumbling family estate.
Tania's drunken husband, Sergei, has mismanaged the estate and it is about to be sold. Sergei, who peppers his conversation with facetious French, has run up huge debts investing in dodgy Japanese ventures on the advice of a businessman he met in a brothel. The women are hoping that Kolia will "sort out this mess", perhaps through marriage, and he does seem to be falling for young Natasha, while Varia watches with bitter pain and stoical amusement.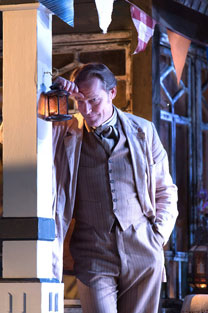 Iain Glen in Longing. Source: Manuel Harlan
Chekhov's novella, My Life provides the subplot. Misail, son of the town architect, wants to work with his hands so as to "understand what life is really like". Unfortunately, he's engaged to a millionaire's grasping daughter and destined for a life of unwelcome riches.
A shared human experience
John Crace's hilarious "digested read" of the play's text, raised fears of a series of humorless clichés. The actual set, a charming dacha with carved, wooden eaves, was picturesque, but did nothing to allay these fears. The real grass, golden maples and misty silver birch trunks, haunting oboe music and birdsong add to the atmosphere. The strong cast, however, lifts the tale out of the drifting leaves of nostalgia into the bracing winds of shared human experience.
Tamsin Greig's portrayal of the attractive, independent, chain-smoking doctor Varia is witty, warm and clever. Iain Glen, who was a watchable and moving Uncle Vanya in London's Print Room last year, is equally compelling as Kolia. Boyd told the Independent that the character was "very plausibly a self-portrait by Chekhov." Glen captures Kolia's combination of charm, professionalism and emotional uncertainty. The scene where he and Varia almost kiss is charged with understated passion.
Homage to the Russian Soul
Katerina Arkharova from Moscow watched the show last week with her husband Dmitry. Arkharova, who has lived in London for 15 years and works for the BBC Russian Service, said: "It is a great joy and pleasure for me to see the way English theatre directors, writers and actors interpret Russian classics, especially Chekhov with his subtlety and undertones."
Arkharova said she actually prefers British versions of Chekhov to some of the more experimental Russian productions, like the Vakhtangov Theatre's Dadya Vanya which played in London last November: "It was too crass for my taste … and not Chekhov at all. I suspect that British directors approach Chekhov with more understanding and more respect, even reverence.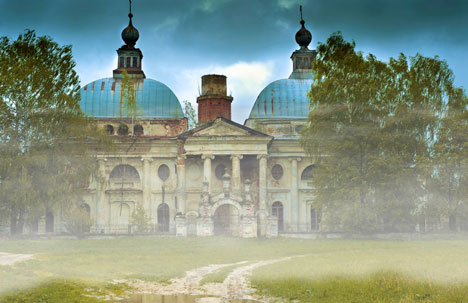 A new comedy wrought from Anton Chekhov's short stories sold out in just a few days at the Hampstead Theatre. Source: Manuel Harlan
The title, with its layers of meaning, is well chosen, reminiscent of the untranslatable Russian word toska, of which Vladimir Nabokov said: "At its deepest and most painful, it is a sensation of great spiritual anguish … At less morbid levels it is a dull ache of the soul, a longing … nostalgia, love-sickness. At the lowest level it grades into ennui, boredom." Several shades of toska are represented in Longing.
The words engraved in Kolia's ring, "All things pass", become the play's catchphrase. "Times change, everything changes," says Varia on her way to catch a train with her doctor's bag. Chekhov's perennial obsession with unstoppable time is more topical now than ever.
Longing is on at the Hampstead Theatre until April 6th.
All rights reserved by Rossiyskaya Gazeta.