Mayakovsky on the metro: all aboard the poetry train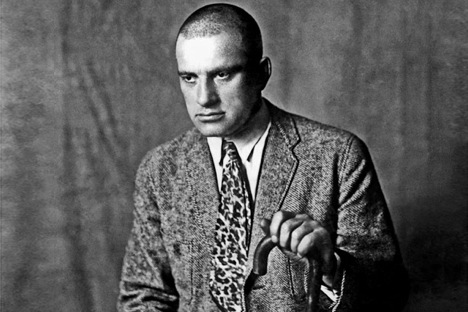 Vladimir Mayakovsky. Source: ITAR-TASS
The Moscow Metro plans to introduce a Mayakovsky-themed 'poetry train' to commemorate the poet's 120th birth anniversary.
So much has been going on this week, that it seems almost necessary to take a break. Not launch into a tirade about the continuing scandal at the Bolshoi Theatre, not dissect the media allegations that the United Russia party is done for, not attempt any more predictions about the Cyprus bailout - but just be pensive for a moment. Oddly enough, the Moscow metro has just provided me with the excuse.
People who take the metro every day in Moscow tend to think of it as a stressful environment. Obviously, the network was not built to accommodate the millions of passengers it carries around the city every day. Sometimes, there are delays. Or the occasional corruption scandal. Or, let's face it, the habitual rudeness of metro staff.
But I have some good metro-related news for you today: the planned introduction of a Mayakovsky-themed 'poetry train' on the light blue line, to commemorate the poet's 120th anniversary.
I know what you're thinking: "Oh, another one of those themed trains. How original. Yawn."
First of all - themed trains are kind of cool (very few other metro networks practice this).
Most importantly, just consider Vladimir Mayakovsky - the poet and the man. The passage of years has softened his image somewhat, and has made him palpable and co-optable - but in all honesty, we cannot forget that Mayakovsky was a passionate, brittle, subversive man.
When it comes to public image, he was like the controversial rap artists of his day. He swore. He had relationship problems. He was talented. He was political. He was handsome. He was, toward the end of his life, extremely disillusioned, particularly by Stalin's rule.
If Mayakovsky were alive today, we would probably be seeing thrilling exposes about him on late-night talk shows. Critics would accuse him, fans would flock to him. His Instagram account would have just as many followers as Ramzan Kadyrov's, I bet.
Mayakovsky's poetry lives on - and inspires homages such as the one planned on the metro - not because it was safe. He was not a safe, convenient poet, if a real poet can ever be convenient.
Think about that when you ride the poetry train.
First published in The Moscow News.
All rights reserved by Rossiyskaya Gazeta.