The man who held the Russian soul in his hands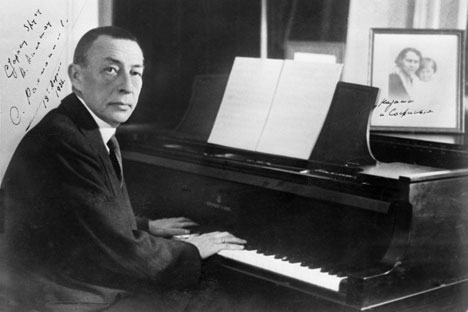 Rachmaninoff was the first Russian composer to scrape together a fortune — moreover, a fortune from his own recordings. Source: RIA Novosti
Russia celebrates Sergei Rachmaninoff, the brilliant pianist who became the embodiment of Russian music abroad, on the 140th anniversary of his birth.
Rachmaninoff's name has long since become a brand. His music haunts the piano students perspiring in music schools no less than it does the covetous, concert pianists rubbing their hands together as they watch their bank balances balloon with every new performance of the great composer's hits. The music also haunts his rapturous listeners, who freeze like deer in the headlights when they hear the first chords of Rachmaninoff's Piano Concerto No. 2.
Rachmaninoff was fated to have both enormous success and a life in exile. At a time when Vladimir Lenin was doing all he could to rock the boat of Imperial Russia, little Seriozha (common diminutive for the name Sergei) was just learning how to press the pedals on the old family piano. His poetic nature slowly matured in the hush of a Russian village and, in December 1917, he left Russia for good.
To the din of church bells being blown up by the Bolsheviks, Rachmaninoff fled to the West. In the frames of a documentary film, we see Rachmaninoff — guarded and gloomy — on the deck of a steamship bound for America. Suddenly, his face is replaced with a Guy Fawkes mask, and we feel that this smile tells us what is most important about Sergei Vasilievich. This uneasy-looking man with the shaved head is, in fact, full of the joy of anticipation. A new life was opening up before him in the New World, which would make him celebrated and unhappy.
Rachmaninoff robbed Russian music of its chastity, tearing asunder its fetters of provincial academism with his long fingers and thrusting it shamelessly onto the stage for all audiences of the early 20th century to hear. He became the messiah of the light genre, to which he applied all the might of his piano so as to forever change the image of classical-music lovers — just as the Beatles did for fans of rock n' roll.
Rachmaninoff was the first Russian composer to scrape together a fortune — moreover, a fortune from his own recordings.
Right up to the end of his immigrant's life in the United States, he remained an incorrigible romantic. Listening to the rumble and roar of his latest sports car, Rachmaninoff would race along the California highways, taking his hands off the wheel only to wipe away the tears he often shed for his native Russian birch trees. He could never forgive fate for parting him from his Motherland — from the carefree summers at his country estate near Moscow, where he spent days hunting dogs and playing scales with pretty pupils.
So then, what is the sound of genuine, uncompromising Russian music? Here it is:
Five hits by Sergei Rachmaninoff
1) Prelude in G Minor
This absolute hit is guaranteed to turn you into a classical music fanatic. Rachmaninoff himself refused to play it at concerts as an encore, and was highly annoyed one day when he heard strains of this prelude coming from the doors of a California bar. "Everyone will think that that is all I ever wrote!" he fumed.
Source: Youtube
2) Piano Concerto No. 2
Brilliant and sickening at the same time. There is not a single professional pianist in the world whose repertoire does not include this "Mona Lisa" of music. This classic has been played and played and played; any self-respecting music lover has to know it.
Source: Youtube
3) Piano Concerto No. 3
Fatalities — a la Mortal Combat — played on 88 keys. The torments of the pianist who tortures his piano with this gear-wrenching concerto is beautifully shown in "Shine," the Scott Hicks film based on the life of pianist David Helfgott. Watch it instead of watching "Rocky" for the umpteenth time.
Source: Youtube
4) Elegiac Trio
Have a handkerchief ready — or, better yet, a towel — if you plan to listen to this heartrending requiem for piano, violin and cello. It is dedicated to the memory of Pyotr Ilyich Tchaikovsky — Rachmaninoff's friend and teacher. This trio paints a posthumous portrait of the great composer so sad and madly beautiful that it will bring you to tears.
Source: Youtube
5) Vocalise
In form, this is a vocal exercise; in content, a swan song about inimitable (female) beauty. "Vocalise" is a favorite piece of not only of sopranos but also violinists. Prepare yourself: a good performance of this piece will leave you with a lump in your throat.
Source: Youtube
All rights reserved by Rossiyskaya Gazeta.