Russian Kitchen: Pickled cucumbers and vinegret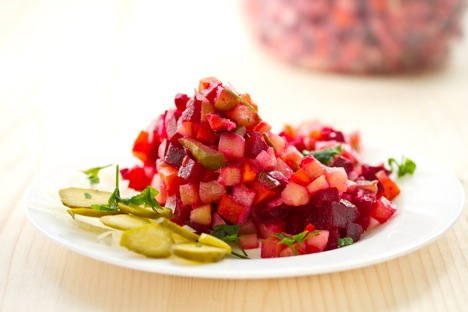 Vinegret and pickled cucumbers. Source: Lori/Legion Media
A big percentage of gherkins, used for making vinegret in Russia, is actually imported from Bangalore.
Pickles have become a valuable addition to our meal, but Russian pickles are very different from the Indian variety. The most popular pickle in Russia is marinated cucumbers or gherkins. Basically, cucumbers are marinated in salt and vinegar with addition of black pepper, garlic, dill and mustard seeds.
I live in Bangalore and very often pickle my own cucumbers. It's not very difficult to do and takes only three days before you can eat it. Russian families pickle cucumbers, tomatoes, capsicum, and cabbage in September, so they can have vegetables available throughout the winter. Nowadays, the trend in Russia is to buy pickles at the grocery shops. Many families stopped pickling at home because they don't have much spare time. In one of the supermarkets I was going through the labels of gherkins checking where in Russia they were manufactured and to my surprise most of them come from ... Namuru Bengaluru!
The free market economy is a great thing. A product like gherkins has got a very narrow niche in India. On the other hand, the climate, the cost of manufacturing, the quality is perfect for exporting.
Russia is a good market for gherkins export and according to the Indian Gherkins Exporters'Aassociation, India holds the second largest share after Vietnam. About 30 percent of Russian import of gherkins comes from India, Karnataka being the major producer. Usually the gherkins are sent in plastic drums and then bottled and labeled. Russia is one of the countries that imports great deal of already bottled gherkins.
My recipe today is about pickled cucumber. No, I will not make my readers pickle. We will make a simple vegetarian salad which is very popular in Russia and is called Vinegret. It usually has boiled beets, carrots, potato, pickled cucumber, onion and pickled cabbage. The name comes from French vinaigrette which is a dressing made of vinegar, oil and mustard. Originally Russian salad had the same dressing which changed over time.
Vinegret
Ingredients:
(Makes 10 portions)
Beetroot 400 g
Carrot 400 g
Potato 400 g
Green peas 200 g
Pickled cucumber 170 g
Onion 1 large
Black pepper
Salt
Sunflower oil
Boil beetroot, carrot and potato in salty water until cooked. Beetroot should be boiled separately. Cool down and cut into equal half inch cubes. Gherkins also cut the same way. Chop the onion into small pieces.
Mix all the ingredients and season to taste. You can add any herbs you like.
Usually this salad cannot stay in the fridge for more than one day.
Priyatnogo appetita!
All rights reserved by Rossiyskaya Gazeta.