Russian artist's World View on display in Delhi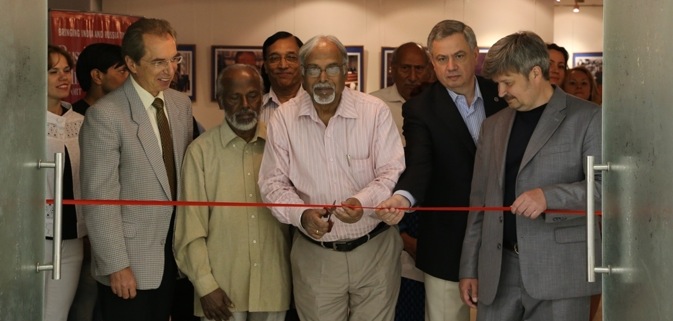 Maxim Pridanov (extreme right) at the inauguration of his exhibition in New Delhi. Source: Alexander Tomas
The onion domes of Nizhny Novgorod's churches and the Grand Canal of Venice coexist peacefully at the World View exhibition by Maxim Pridanov, which is being held in the Russian Centre of Science and Culture.
You'd be hard pushed to confuse Maxim Pridanov with any other artist. He believes that life is filled with wonders, and these wonders manifest themselves in his personality and his paintings. One frosty night on Lake Svetloyar in the Nizhny Novgorod region, he observed a grey cat making its way through piles of snow to his 'sweetheart'. The image inspired 'Night Walks. Travelling,' one of the artist's favourite paintings.
"My Russia is kind, colourful and dreamlike," Pridanov says. "What does India look like then," I ask him. "India is so varied," he answers, and then confesses that he has thus far been unable to get used to the contrast between the simplicity of its people and the splendour of its architecture. He is certain of just one thing: "any artist could use India as a source of inspiration."
He will stay here for another week, and he already has sketches of the Taj Mahal and the Tomb of Akbar the Great in Agra for the next World View. Everyone who comes to Maxim's exhibition finds something deeply personal in his paintings. Professor S.N. Lahiri, from the University of Delhi's College of Art, saw the "flourishing of friendship between India and Russia" in the painting 'Flowers of Russia.' The Senior Advisor to the Russian Embassy in India praises the Himalaya series of paintings for its similarity to the works by Nicholai Roerich, for whom Kullu Valley in the northern Indian state of Himachal Pradesh became a second home. The President of the Forum of Indian Photographers and Artists (FIPA), Vimal S. Mehta, asked Pridanov to share his "mastery in depicting urban landscapes" with his students.
The artist doesn't have an exact word for his style. "Art experts have agreed that it is associative realism, in other words, realism based on associations," he explains. Pridanov then takes new visitors to see the painting 'Miracles,' which features villagers standing in front of an ordinary wooden house, with unusually large red and green apples scattered near their feet – they normally harvest such apples in Russia in late summer and early autumn.
One important painting, though, never made it to the exhibition. The work depicting Red Square in Moscow was lost at the Indira Gandhi International Airport. Pridanov assures me that he is not too distressed. At least there is a reason for him to go back to India, which may just have another miracle in store for the Russian artist.
About the Artist: Maxim Pridanov is a member of the Union of Artists of Russia and International Federation of Artists. His paintings have been displayed in Berlin, Hamburg, Bratislava, Prague, New York, Vancouver and Vienna. His works are part of the collections in museums, galleries and private collections in more than 30 countries.
The exhibition is being held at the Russian Centre of Science and Culture, 24, Ferozeshah Road, till April 12.
All rights reserved by Rossiyskaya Gazeta.