Russian Cosmonautics Week held in Indian capital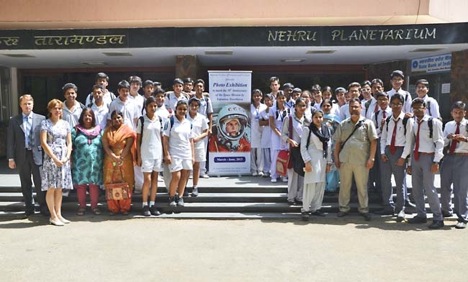 Over 20 schools and youth organizations were involved in the entire programme of the Week. Source: Russian Embassy in New Delhi
Over 700 participants took part in a programme that consisted of dance and painting competitions as well as lectures and film screenings dedicated to Valentina Tereshkova.
To mark the 50th anniversary of the space mission by the world's first woman cosmonaut Valentina Tereshkova, 'A Russian Cosmonautics Week,' was held in New Delhi. The festivities included a colourful function, comprising of dance and painting contests at the Russian Centre of Science and Culture (RCSC) on April 12, the Cosmonaut's Day.
Throughout the week, the RCSC, Nehru Planetarium and a few Delhi schools held lecture-cum-presentations, film screenings and photo exhibitions on Valentina Tereshkova and achievements of Russian space industry.
On April 12, school children participated in the 'Dance Fantasy,' a dancing competition and 'Space Guest,' a painting competition.
Through the dance and painting contests, the school children expressed their intense interest in the heroic space odyssey undertaken by the Russian cosmonaut Valentina Tereshkova and demonstrated their perception on the enormous potential of space science and intrinsic features of cosmic phenomenon.
The Springdales School, Dhaula Kuan, bagged the First Prize in a Group Dance. DPS, Dwarka, won the First Prize in Painting. The Third Prize in Dance Contest was shared by the DPS, Dwarka, and Pragyan School, Noida.
The Springdales Schools, Dhaula Kuan, DPS, Dwarka, and Pragyan School, Noida, performed well-choreographed numbers in the dance competition. Greenways School, Dilshad Gardens, presented a Bengali Folk Dance, while the Bluebells School International came up with a Rajasthani Dance, as a tribute to Valentina Tereshkova. The Alience Dance Academy, Durgesh Nandini Academy and Ashu Dance Academy impressed the audience with thought-provoking items specifically relevant to the space.
The notable merits of the performance of dance items evidently showed the sincerity and hard work undertaken by the children. The costumes specially chosen by the dance groups corresponding to the space theme as well as the regional tradition testified to the relevance, thematic value and aesthetic sense of the children and their teachers who guided them. The audience was highly impressed by the devotion, commitment and artistic talent of children, who proved to be budding artists.
The school children also took part in the launching of balloons representing colours of the national flags of Russia and India, an act symbolic of their far vision in probing the space and unravelling the mysteries of universe.
Over 20 schools and youth organizations (more than 700 participants) were involved in the entire programme of the week.
The Week of Russian Cosmonautics is part of the Seagull Festival, which started on March 6, 2013, the Birth Anniversary of Valentina Tereshkova, and will conclude in mid-June.
All rights reserved by Rossiyskaya Gazeta.