Moscow's Indian community celebrates Ugadi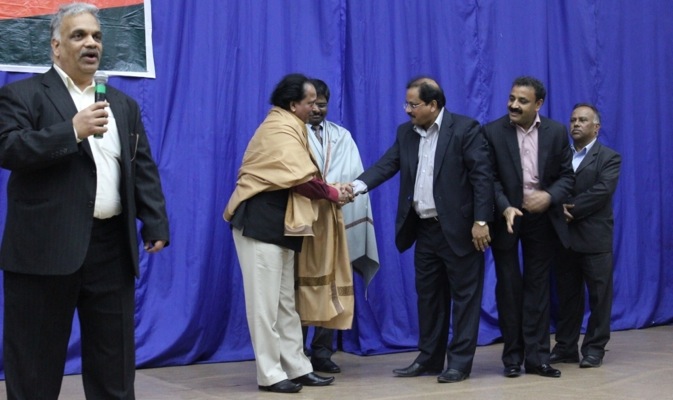 Among the guests were people from all parts of India and curious Russians. Source: B. Ravi
The Indian Diaspora in the Russian capital marked the Telugu and Kannada New Year with vigour and enthusiasm.
Very few Muscovites trace their roots to the southern Indian state of Andhra Pradesh with the city having about 20 families with a Telugu connection. Yet, despite the relatively small number of Andhraites in the city, Ugadi celebrations at the InterClub of Moscow's People's Friendship University of Russia (PFUR) were a colourful and festive occasion.
Among the hundred-plus guests present at the event were people from all parts of India, curious Russians and a good number of children. The Russian guests, not usually familiar with Indian dances or songs, were in awe of the exotic performances on the stage of the PFUR hall. The Indians present at the event were also spellbound by the skill and charisma of the performers and awarded them with thunderous applauses.
Source: B. Ravi
The highlight of the evening was a performance of Bhuvanagiri Vijayalakshmi, a well-known singer, who specially came all the way from India to take part in the Ugadi celebration in Moscow. The occasionally-homesick Indians were moved by the popular songs sung by Vijayalakshmi. Even the usually reserved businessmen were as cheerful as children singing along with her, applauding enthusiastically and some of them even dancing on the stage to the music.
The young participants of the cultural programme demonstrated the whole range of their dancing and singing talents. The guests were also delighted to witness Kathak and Bollywood dance performances by Svetlana Tulasi. Svetlana's dancing abounded with complicated elements, and her effortless grace enchanted the audience.
Source: B. Ravi
Dancer Lakshmi Reghunathan won viewers' hearts with her beautiful and masterful performance, while Arunima Singh's skilful delivery of the Kuchipudi dance charmed the guests.
The strong voice and stage presence of a young aspiring singer Romadi, who sang in three languages (Hindi, English and Russian), was also impressive, especially her rendering of the famous A. R. Rahman song Jai Ho. Romadi's voice was even praised by Bhuvanagiri Vijayalakshmi.
Source: B. Ravi
After the last chord of Vijayalakshmi's song faded away, the party switched into informal mode, with the guests socialising in the cosy ambiance of the Interclub and enjoying exquisite Andhra cuisine. The last guests left the venue well after midnight proving that Indians (just as Russians) know how to have fun at the fullest.
All rights reserved by Rossiyskaya Gazeta.