Indian artist looks back at his 'golden years' in Russia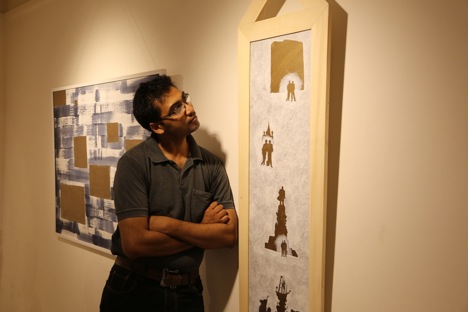 Aakshat Sinha. Source: Alexander Tomas
Thirty-nine year old artist Aakshat Sinha looks back on the seven years he spent in Russia in an exhibition of paintings, poetry, installations and video clips that he calls These Golden Years.
It's Monday evening at the All India Fine Art & Crafts Society, which is located in the very heart of New Delhi. And there seems to be just a little too much Russia. One of the halls has been given over to the curator of the annual Art Camp at the Russian Centre of Science and Culture in New Delhi and president of Forum of Indian Photographers and Artists (FIPA) Vimal S Mehta, while the other boasts a series of landscape photographs, the scenery of which appears in the paintings of Nicholas Roerich.
But it's only with These Golden Years that you can really touch Russia. Aakshat lived in Moscow for seven years, and he's got his student ID card, Moscow metro tickets, Vysotsky CDs, a DVD of Sergei Bodrov's Brother about the turbulent 1990s, and dozens of other things to prove it. A collection that any Russian would be proud of!
Source: Alexander Tomas
"In 1991, I enrolled at the People's Friendship University of Russia (PFUR). And I got my Master's Degree in 1998," Sinha says. "I made lots of friends there, friends that I have kept in touch with ever since. We had a great laugh in the halls of residence, went out a lot. All these memories have stayed with me and they inspire my work."
Another part of the exhibition consists of abstract paintings with blue rectangles on a brown background; Sinha says they represent fragmented memories. "I remember bits and pieces of certain things that happened. I remember having a great time. But the details have got lost somewhere. These paintings are dedicated to those memories," he adds.
There are also images of real things – people taking a stroll along Red Square and Nevsky Prospect, hanging out at Gorky Park and by Lenin's Statue at Oktyabrskaya metro station, and other well-known Moscow and St Petersburg sites.
Source: Alexander Tomas
"Russia is an inexhaustible source of inspiration," Sinha explains. "But, of course, nothing made such an impression on me as Tsvetnoy Boulevard. There's a park there right in the middle of two main roads. The park's got benches and extremely beautiful people sit on them."
The exhibition has only been open an hour and already there's no room to breathe. Sinha's wife Shakti turns up. They met while he was in Russia. And his friend Neeraj Narain, who he studied engineering and mechanics with in Moscow, also makes an appearance.
Most importantly, his mother Renu Sinha is there too; if it hadn't been for her, Aakshat would never have even gone to Russia. "His father also studied and worked in Russia," she recalls. "I really liked the Russian language myself and I wanted Aakshat to study it. Was I frightened? No. I was happy that he got the chance to go. And I was right. He got a good education, and made friends with people from all over the world. And he fell in love with the country."
Source: Alexander Tomas
Aakshat Sinha wasn't the only one reminiscing about their 'Golden Years' in Russia; the exhibition evoked a little nostalgia from those who have now taken it upon themselves to pass their knowledge on to the next generation. Professor of Russian Language and Literature at Delhi University Neelakshi Suryanarayan also studied at PFUR. Now she, along with her colleagues, is putting her efforts into making sure that dozens of Indians get to know who Pushkin was and learn how to write the word babushka, meaning 'grandmother' or 'old woman', that is so beloved by foreigners.
"It's a very interesting exhibition. I'm impressed by Aakshat's work. I studied in Moscow myself, and it's a great shame now that our students cannot always afford to go and study in Russia like before," she says. "And we don't get any Russian students over here. I'd like to see the two countries strengthening their educational ties."
Source: Alexander Tomas
Sinha has also written a poem called These Golden Years about how he got used to Russia. The poem is in three languages – Hindi, English and Russian:
"There was a time
When I would laugh aloud
And not even see if anyone`s around
There was a time
When everything was a rainbow
All glittery and even a sunshine glow."
An installation made from hundreds of green cardboard pieces with yellow faces on them complete the exhibition. Sinha spent three months on the piece. "It's the PFUR hall of residence," he says. "If it weren't for the hall of residence, then my golden years wouldn't have been so golden after all."
The exhibition is open until Sunday April 28.
All rights reserved by Rossiyskaya Gazeta.