Yulia Kosulnikova captures the ironic contrast of womanhood in London show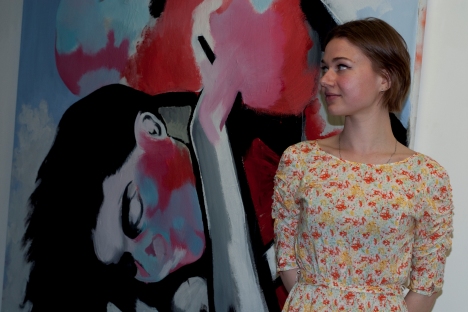 Yulia Kosulnikova: "Women as subjects don't need to show anything". Source: Courtesy of Erarta Galleries
The exhibit, called "I'm Not Baba Yaga," explores perceptions of threatening femininity, and images of pain and joy.
She appears as an explosion of colors, wearing her summery dress – an orange and pink flower motif on a crème background – and her bright red tights.
So much so that when the eye starts wandering across the exhibition hall and then stops in front of the canvases, it becomes difficult to reconcile the artist with her work.
Bent Girl, 2012. Acrylic on canvas, 180x180 cm. Source:
Courtesy of Erarta Galleries
Yulia Kosulnikova's series of paintings titled "I'm Not Baba Yaga," on display at the Erarta Galleries in London until May 18, is a testament to duality on many levels.
"People often say about me that I look very nice - that I am a nice girl wearing sweet dresses - but when they look at my paintings they can't help but saying: "God, what goes on inside your mind!" the 25-year old artist from Saint Petersburg says of her work.
"There is this kind of contrast in me, and has always been there."
This strong contrast is what attracted Russian journalist and art patron Artemy Troitsky to her art. Intrigued by Kosulnikova's artistic approach, he agreed to curate "What Goes On In A Young Girl's Mind," her first exhibition.
P.R., 2012. Acrylic on canvas, 180x180 cm. Source:
Courtesy of Erarta Galleries
Since then, she has developed a strong body of work, appreciated by renowned art collector Pierre Borchet as well as the Russian Orthodox Church, which purchased her METANOIA installation in 2011.
Kosulnikova considers the 16 paintings in the "I'm Not Baba Yaga" series the product of a very important stage in her artistic development.
"Little by little I am forming my own style. This exhibition is closer to accomplishing that," she said. Serious themes are touched upon with irony and lightness, while harsh images – snakes, dismembered bodies, blood - clash with the use of pastel tones.
The mix of different elements, from the female body to sacred images, from religious to symbolic elements, is deftly designed to both bedazzle and disturb.
As the title of the exhibition announces (Baba Yaga is a witch-like figure belonging to the Russian fairy tale tradition), the artist pays special attention to the feminine element.
Krupskaya, 2012. Acrylic on canvas, 180x180 cm. Source:
Courtesy of Erarta Galleries
The women on the canvas exude mysticism and mystery. In "Krupskaya" Vladimir Lenin's wife Nadezhda is portrayed in a Russian fur hat and a long black braid as she holds a sickle.
The fieriness in her eyes translates into an aura of flames. As Kosulnikova aptly puts it: "Women as subjects don't need to show anything. They don't need to act – women themselves are made of a substance that arises from within. If Man is action, Woman is a condition in which one keeps on moving and turning."
The artist's works show an awareness, however, that the greatness of women is doomed to be overlooked and distrusted. Alongside children, women are often the victims of history – another recurrent theme in her art.
In "P.R.," for example, the three Pussy Riot women jailed after a performance in the Church of Christ the Savior in Moscow, become babies – the ultimate symbol of innocence.
Yet, even in this case, the contrast subsists, with the babies portrayed as feisty and ready to fight in a transformation from victims to militants.
The erstwhile art student at the Stieglitz St-Petersburg State Academy of Art and Industry would often spend her days at the State Hermitage Museum.
There she contemplated the haunting majesty of Flemish painter Rogier van der Weyden - which inspired her deep mastery of the art of juxtaposition. Fluid in time and boundaries, Kosulnikova's work dominates and leaves the viewer enchanted.
All rights reserved by Rossiyskaya Gazeta.