Indian boxers to take part in Khabarovsk tournament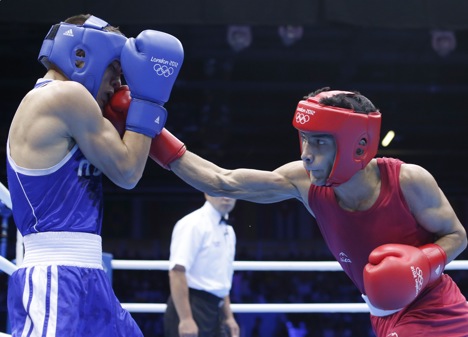 Shiva Thapa of India (R) vs. Oscar Valdez Fierro of Mexico at the London 2012 Olympic Games. Source: Reuters
After serving an AIBA suspension, a ten-man squad looks to gain much-needed international exposure in the Konstantin Korotkov Memorial International tournament.
A ten-member Indian team led by Thokchom Nanao Singh and Shiva Thapa will take part in the Konstantin Korotkov Memorial International tournament in the Russian Far Eastern city of Khabarovsk scheduled from May 15 to 20, PTI said on Monday.

Nanao, who is a former Asian Championships silver-medallist will compete in the 49kg division, according to the news agency. "The injuries are behind me now and hopefully this tournament would give a fresh start to my career," Nanao told PTI
The annual tournament is one of the mainstays of the international amateur boxing calendar with Indian boxers looking to gain good practice before high profile events. Indian boxers were not allowed to take part in international events following a suspension of the Indian Olympic Association by the International Olympic Committee in December. However, amateur boxing's governing body, AIBA has allowed Indian boxers to participate in international events under its flag.
Shiva Thapa, who will take part in the 56kg event is returning to the boxing ring for the first time after the 2012 London Olympics, according to the report. "It has been a long break because international suspension meant that we did not go for a few events. Let`s hope everything falls in place soon so that we can go and compete more often," Thapa told PTI.

Other Indian boxers at the Khabarovsk event include Asian Games silver-medallist V Santhosh Kumar (64kg) and multiple-time national champion Kuldeep Singh (75kg), according to the report. "It would be good exposure because we do need to be competitive given that the World Championship is just around the corner (in October)," India`s Cuban coach Blas Iglesias Fernandes, told the news agency.
Khabarovsk, which is 7 time zones away from Moscow, has hosted Indian athletes in the past. The city held Indo-Russian badminton tournaments in the 1990s, with India's badminton star of the decade P Gopichand taking part in the events.
All rights reserved by Rossiyskaya Gazeta.