Moscow's lost and clueless generation behind the lens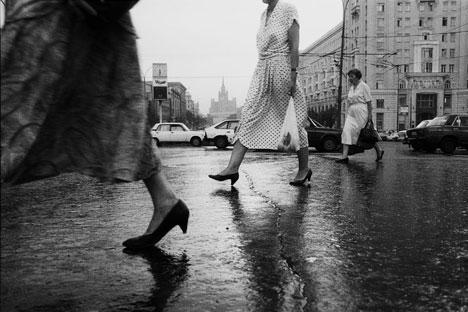 Day of the city of Moscow. Source: Igor Moukhin
A new black-and-white photograph collection focuses on the individual and captures a clueless and lost generation passively searching for a sense of belonging.
Sometimes you have to take a second look. When I first saw "My Moscow," Igor Moukhin's book of photography released last year, I recognized many of the photographs. They were featured at the Houston FotoFest Biennial 2012 alongside Valera and Natasha Cherakshin as well as other of the transition period.
The transition period refers to a time when Russian society was opened up by relaxing state censorship and the simultaneous development of unregulated, capitalistic growth and the development of a mass culture.
Igor Moukhin, born in Moscow in 1969, is a freelance photographer and lecturer at the Rodchenko Moscow School of Photography and Multimedia. "My Moscow" is a collection of 200 black and white photographs from 1985 to 2010 that provide striking excerpts of life in the Russian metropolis.
The mixture of press photography and a style both anecdotal and reminiscent of film, attempts to locate the individual in the ebb and flow of currents. With impeccable skill, Mukhin approaches classic street photography to reinforce motif and composition.
Upon closer examination of the images, the interruptions, the traces of forgetting and the illusion of individual autonomy, become visible through the constant change of perspective in the image selection and sequence contained in the book.
It is an unyielding criticism of its own city, completely stripped down: the concrete apartment towers among the tarpaulin dwellings, from which a hand reaches out to the viewer; the person emerging from a container opening, with both hands wrapped around a glass partition, hardly visible on its own, but its silhouette cast on the wall behind appearing markedly larger than in reality; the five men seemingly coming from a stage and exuding the appearance of genuine thespians, their faces staring off into nothingness.
It is no coincidence that a book by dramatist Samuel Beckett is visible in a picture of Mukhin's desk as it provides artistic reference to the absurd, to emptiness, weariness, hopelessness.
Moukhin refuses to resort to the Western cliché of "life in Russia as being defined by drunkenness and death" (a phrase coined by Zakhar Prilepin). Instead he takes Muscovites through irony and criticism, showing them their lack of orientation and order, and their desolate conditions in times of ever-present neo-liberalism and societal regression.
It is a portrait of a clueless and lost generation passively searching for a sense of belonging.
The focus is on the individual; an inventive and intimate photographic construction leaves a lasting impression on the viewers. The photographs engrain a sense of reversal and rebirth, product of an insistent representation of the self as a mirror image of consciousness.
In Houston, Moukhin's photographic work was adjudged to contain remarkable versatility and creativity and the period from 1985 - 2010 is quite multifaceted. Glasnost, Perestroika, the dissolution of the Soviet Union, a transition to Putin's controlled democracy, all left a sense of optimism which very soon was displaced by disillusionment.
Ever since, the focus has increasingly shifted to a search for the path within via metaphysical, religious and, oftentimes, obscure subject matter.
However, it remains to be hoped that artistic merit, of someone like Moukhin, who has a perspective that is both socially critical and compassionate, continues to be an important aesthetic voice for Russian photography.
All rights reserved by Rossiyskaya Gazeta.