Moscow celebrates Museum Night with moonlight tours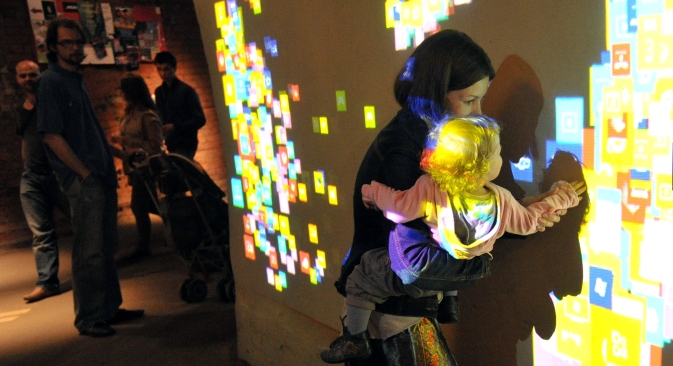 Spend your Saturday's night in Moscow's museum. Source: Kommersant
On Museum Night, museums and art galleries in major Russian cities will stay open late. In addition, Moscow and St. Petersburg will host various concerts with street actors, musicians and dancers.
This year May 18th will mark the seventh time that Moscow has celebrated Museum Night. It originated as an extension of Cultural Heritage Day and is also known as International Museum Day.
On this day, all cultural establishments are free for visitors, as too are historical mansions that now house foreign embassies. In fact, this is the only opportunity to see them from inside.
In most cases visits require preliminary arrangements, with more people wanting to get in than the buildings can hold. Museum Night is growing in popularity each year, with kilometer-long queues to visit cultural institutions at night becoming the norm.
On the evening of May 18th, most Muscovites traditionally storm the city's main museums – the Pushkin Museum and the Tretyakov Gallery – as well as their branches.
While these places are not to be avoided altogether on Museum Night, bear in mind to come well in advance or prepare to wait. Other popular destinations are Winzavod and Artplay – two of Moscow's major contemporary art venues.
Museum Night venues in Moscow
Winzavod is preparing to stage KultOlimp, a mixture of art and sport. The center's galleries will host vernissages and installations designed especially for museum night.
Moscow spent a "Night at the Museum-2012" from Russia Beyond The Headlines on Vimeo.
At Artplay, guests will be treated to complimentary delicacies alongside the contemporary art offerings as part of the Restaurant Day program.
The center will also hold the PLUMS audio visual festival, Dandy Day & Night festival and several exhibitions, including a light installation at the RODNYA club.
Another popular destination is the Tretyakovka Pop-up project at the Tretyakov Gallery on Krymsky Val, which houses the contemporary collection of the premier museum for Russian art.
The Central House of Artists will be open for visitors featuring a permanent exhibit of 20th-century art. Its inner courtyard will offer avant-garde piano concerts and master classes for children.
The "Norshtein and Petrushevskaya" exhibition will be unveiled on Museum Night at the Solyanka State Gallery. Writer Lyudmila Petrushevskaya and cartoonist Yuri Norshtein plan to be on hand to address the audience.
The Manezh Central Exhibition Hall will present one of the world's largest digital art events, the Vienna sound:frame Festival. The event will be broadcast on the facade of the Manezh building, allowing visitors to enjoy live music in the open air until 5 a.m.
Underneath the starry sky
The recently renovated Gorky Park becomes a popular destination on Museum Night. The park is located just across the road from the Tretyakov Gallery on Krymsky Val and boasts a museum of its own – the Garage Center for Contemporary Culture.
It will host the "Museum of Everything" exhibition of contemporary, self-taught and non-traditional art. Visitors will be charged 200 rubles (about $7), which is strange on the night of free museums, but Garage rarely disappoints.
Off the beaten path
The list of interesting venues on Museum Night is endless. The event's website (insert link maybe?) lets you choose the peculiarities of what interests you most, such as the Retro Auto Museum, for example.
While you will have to huddle along and beat your way to get into Moscow's central museums, suburb estates such as Kolomenskoye, Tsaritsyno or Kuskovo will allow you to saunter around and enjoy live music.
And there's always the Flacon design plant at Dmitrovskaya metro station, which is holding a "Design Subbotnik" devoted to an eco-lifestyle, with the musicians of the Vienna Vegetable Orchestra playing instruments made of fresh vegetables.
All rights reserved by Rossiyskaya Gazeta.