Bolshoi Theater unveils new organ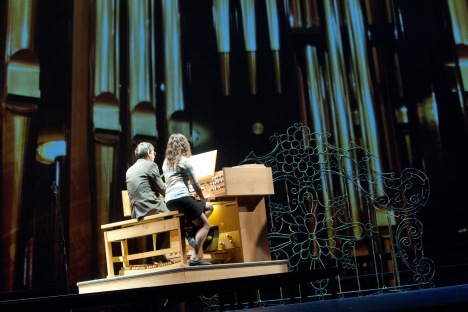 The new organ by the German builders, Glatter-Götz, is being unveiled on the Bolshoi's historic main stage. Source: ITAR-TASS
The Bolshoi Theater has replaced its electronic organ (in use since the 1970s) with a new and compact pipe organ. The instrument is essential in a number of operatic scores and in many symphonic works.
Organs aren't only the preserve of concert halls – opera houses need them too. An organ is often scored for in religious scenes in operas, such as Gounod's Faust, Verdi's The Force of Destiny and Tchaikovsky's The Maid of Orleans.
In addition to all this, symphonic works are often performed in opera theaters, and the organ is needed for these too. Some examples are Scriabin's Prometheus and Richard Strauss' An Alpine Symphony.
In Tsarist times, there was an organ in all the Imperial theaters. The one in the Bolshoi remained in use until after the Second World War, but fell into disrepair, and was replaced by a grim electronic organ.
Today, however, comes the rebirth. The new organ by the German builders, Glatter-Götz, is being unveiled on the Bolshoi's historic main stage.
Glatter-Götz also built the organ for the Svetlanov Hall of the Moscow International House of Music – a considerably larger instrument.
By comparison, the new organ at the Bolshoi is an elegant chamber organ, which cannot fill the theater's dry acoustics. Even so, it possesses some charming, delicate timbres.
These were featured in whimsical fashion during a performance by the German organist Martin Zander, who played an organ transcription of the overture to Wagner's The Flying Dutchman, where the organ not only imitates the orchestral woodwind, but also the strings.
The organ cannot be seen on stage; just like the Flying Dutchman (a legendary ghost ship), it is tucked into the left-hand wings of the stage, with a remote keyboard installation on stage for the player.
It turns out that an onstage organist was needed in a theatrical video performance staged by director Vladislav Kolpakov.
The organ was also seen in a more popular performance by Yekaterina Melnikova, who played Saint-Saens' The Swan, with the melody transferred to the organ pedals.
But there were earnest musical performances too: Kazan Conservatoire Rector, Rubin Abdullin, played a time-honored rendition of Bach's Toccata and Fugue in D Minor in addition to performing his own transcription of four of Mussorgsky's Pictures at an Exhibition.
Yevgenia Krivitskaya played Boëlmann's Gothic Suite, while St. Petersburg organist, Daniel Zaretsky, enchanted the audience with his performance of music by Vierne.
The Bolshoi Theater's "small" organ has 1,819 metal pipes and 100 wooden pipes. There are 31 stops, with two manuals and a full pedal-board.
The instrument weighs eight tons. It stands out of sight in the left wing and cannot be seen on stage. The installation and setup took two years, allowing for voicing to suit the specific acoustics of the Bolshoi Theater's historic stage.
First published in Russian in Vedomosti.
All rights reserved by Rossiyskaya Gazeta.