The designers are often young girls with previous experience in fashion industry. RBTH is here to tell you which brands are worth paying attention to.
Rainbow Seekers: Oversized ethnic jewellery
The designers of Rainbow Seekers, sisters Irina and Marina Kiryanov, have already presented four collections in their first year on the market.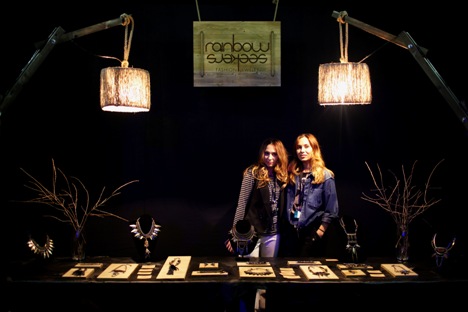 Rainbow Seekers' collection. Source: Elena Pochetova
The brand has also debuted a men's collection of bracelets made of thin leather strips.
Irina is a trained apparel designer, but she found designing clothing far less exciting than designing jewellery.
"Fashion jewellery can take any form you want. There are no limits to creativity," Irina says.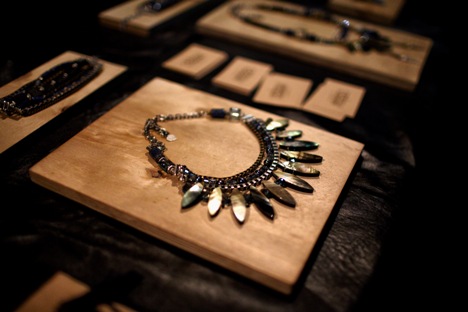 Rainbow Seekers' collection. Source: Elena Pochetova
She does not rule out that the brand may launch a capsule collection of apparel in the future that would match the spirit of the season's collection of Rainbow Seekers jewellery.
"First, Irina bought a small batch of materials to start with… We just wanted to see what would come of it," says Marina, who is responsible for the brand's PR.
According to the sisters, their personal savings and an opportune bonus at Irina's work were enough to get their business started and lasted until recently, when their design work started to pay off.
Buy in Moscow:
Roomchik (2 Bolshaya Dmitrovka, entrance 2, 2nd floor)
Jewellery prices range $130–300 for necklaces and $60–100 for earrings and bracelets.
Buy online: http://shop.rainbowseekers.ru (offers delivery worldwide)
The brand has continued to develop ever since.
Rainbow Seekers jewellery is already available in shops Moscow, Krasnodar and Novosibirsk, while Irina and Marina dream of opening their own boutique and reaching out to the US market.
The designers are particularly careful in choosing their materials: Irina spends all her free time searching for new suppliers.
Their supplies mostly come from the United States and China. Their new collection, Moonlight Shadow, employs lazulite, kyanite, black mother of pearl and lava rock.
Olya Shikhova: Collars and lace necklaces
Olga Shikhova is a fashion designer by profession, with many years of experience as a costume designer in the film industry - she worked on the Russian film Generation P - and for theatrical productions.
She was also the personal stylist for popular Russian fashion expert and TV presenter Evelina Khromchenko.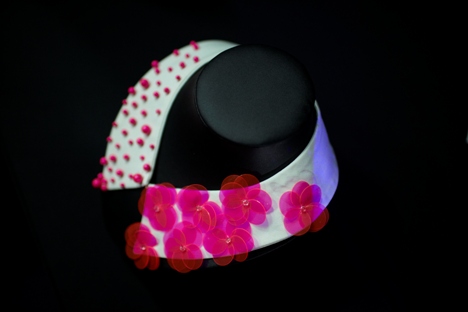 Olga Shikhova's collection. Source: Elena Pochetova
"Evelina liked my fashion jewellery and dresses. She told me once, 'Olya, you should take part in Fashion Week, let's give it a shot!' This is how it all started," Olga said when asked how her personal brand appeared.
Buy in Moscow:
Vesna Shopping Mall (19 Novy Arbat Street), TsUM (2 Petrovka Street)
Prices upon request
Buy online: http://yoox.com/ (offers delivery worldwide)
The clothing and jewellery she included in her first collection caused a great stir. Recently, the designer has been more interested in accessories, namely, collars and necklaces.
The brand even captured the attention of a major online designer clothing store, Yoox.com, which now sells Olga's jewellery alongside famous clothing and accessories brands.
Most of the materials utilised come from Russia and one of the trademark elements of her creations is the use of Swarovski crystals.
She draws inspiration from minimalism, Russian avant-garde art and 1920s fashion. "I am really attracted to Soviet aesthetics.
I have not yet used it in my work, but maybe someday I will find the right materials and I will certainly draw on it," Olga said of her plans.
VOLHA: Statement gemstone necklaces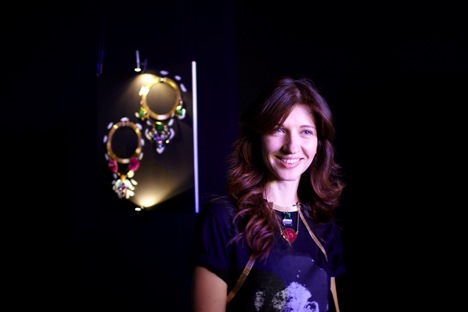 VOLHA's collection. Source: Elena Pochetova
Before launching her career in the statement jewellery business, Olga Prokopova was the editor of the jewellery section for Tatler magazine.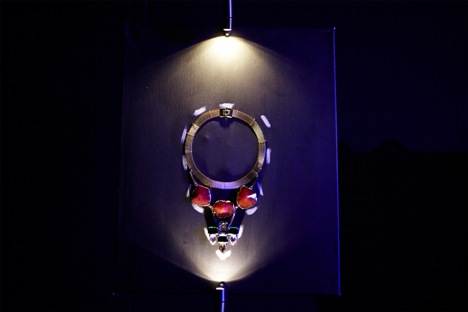 VOLHA's collection. Source: Elena Pochetova
In September 2012, however, she decided to try her hand as a designer.
Buy in Moscow:
TsUM (2 Petrovka Street), Bisou By Me (21 Petrovsky Bulvar), Fen Dry Bar (4 Bolshoi Patriarshy Pereulok), Manash (4 building 1 Molodogvardeiskaya Street)
Prices: from $560
This is how the VOLHA brand came to be. Starting with bracelets, she later moved on to necklaces and clip-on earrings.
As a rule, Olga makes the jewellery herself, managing to realize roughly a hundred pieces a year.
"I really like working with gemstones. I mostly use Brazilian agates, crystals and Italian findings," the designer said.
Necklaces from the new VOLHA collection are pieces of art rather than jewellery; at their presentation during the Mercedes Benz Fashion Week, her necklaces were hung on the walls in frames like pictures.
"The collection is dedicated to the sun and the earth, and various cultures: African, Mexican, etc.," Olga explained.
"In fact, art always inspires me, especially my favourite artists Matisse and Gerhard Richter," she added.
All rights reserved by Rossiyskaya Gazeta.