The trend for eco-friendly fashion shows came to Russia from Europe. In 2004, leading French couturiers began the annual Ethical Fashion Show in Paris. The idea inspired Marina Kokorina, leader of ECA, a major Russian environmental movement, to start an Eco Fashion Week in Russia.
In 2011, the initiative evolved into the Rusecomoda project, whose goal it was to promote green clothing, as well as create and support the eco-friendly designer community in Russia. The first events staged as part of the project were low-key affairs, but in 2013 Russian Eco Fashion Week moved to the far more prestigious Manege in the center of Moscow.
The event's format changed too: the key emphasis was placed on garments and designer shows, whereas the stands with bijoux and other hand-crafted items were removed.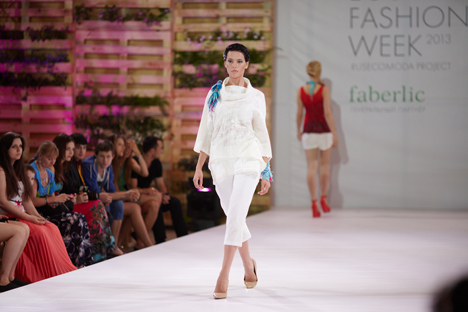 Clothing is made from cotton, bamboo, silk, nettle, hemp and wool. Source: Elena Pochetova
Fifteen designers presented their collections at the second Russian Eco Fashion Week on May. "We are seeking to ensure that we always have new designers and collections," comments project organizer and spokesperson, Tatyana Kargina.
"As of now, we only work with Russian designers, but we are planning to start inviting foreign designers in the future, so we can learn from them. After all, Europe is 5–10 years ahead of us in this area."
Russian Eco Fashion Week designers exhibit their collections in five categories. The first of them incorporates clothing made of environmentally friendly materials: organic cotton, bamboo, linen, silk, nettle, hemp and wool.
The second group includes ethical clothing, collections that use substitutes for leather and animal fur. The third category is reserved for outfits made in compliance with specific environmental standards and requirements.
The fourth category encompasses ethnic clothing that preserves and develops traditional crafts. The last category was just introduced this year.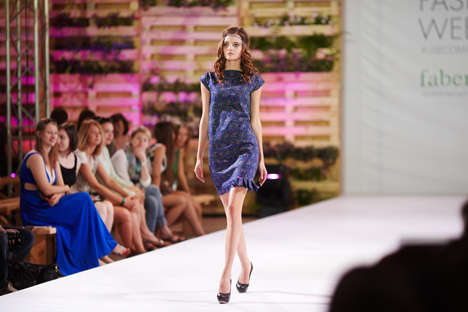 Designers use ethnic elements and eco-friendly fashion in collections. Source: Elena Pochetova
"We added a recreational line comprising of outdoor clothing made from natural materials. The organizing committee extended the concept of eco-fashion to include a healthy lifestyle," Kargina says.
The Russian Eco Fashion Week moved from the cozy Moscow State University Botanical Garden to the much more accessible and popular Manege. Yelena Toropova, who designs clothes using dog hair, noted a major increase in attendance compared to last year.
"The Botanical Garden brought together committed and motivated people, but they were few in number. There is a much denser throughflow here, for the simple reason that we are getting passers-by popping in out of curiosity," Kargina explains.
Yekaterina Shchukina's collections of felt-fur clothing have been particularly popular; every one of her displays was greeted with rapturous applause. In her work, the designer uses undyed and uncombed sheep's wool, natural silk and various plant fibers.
"These clothes give you the feeling of coziness and warmth. Wrapping yourself up in eco-fur you feel free from any sense of guilt," the designer comments on her work.
Traditional Russian themes usually evoke great interest among fashion show visitors. Besides, ethnic elements in clothing have become very trendy as of late. At the Second Eco Fashion Week, Oleg Naumov presented a collection with a folk touch that incorporated multilayer sarafans, traditional long-sleeve dresses, replicas of Zhostovo trays and large flowers.
Natalya Gaidarzhi displayed a collection of costumes made from natural linen manufactured in Belarus. In her work, the designer uses unique hand embroidery, knitting and appliqué techniques.
Kargina believes these are some of the Russian designers that may have a bright future in Europe. "We want our designers to start participating in eco-themed and ethical shows in the West a few years down the line, or maybe even as soon as next year," she confesses.
Xenya Cherny-Scanlon, founder of the Green stilettos blog, which covers issues of sustainable fashion, explained during a lecture on ethical luxury that environmental thinking takes time to develop; it implies caring about future generations and giving quality preference over quantity.
"In recent years, more and more leaders in the fashion industry have been focusing on so-called sustainable luxury, that is, luxury that is aligned with environmental concerns," Cherny-Scanlon said. In her view, trendsetters and celebrities form public preferences.
"There is no doubt, any steps toward more ethical and eco-friendly fashion would be impossible without the support of the consumer. Buyers are becoming more discerning, and the Financial Times column on ethical ways to spend money has been around for a few years now," argued Xenya.
The blogger also underscored the importance of the Russian Eco Fashion Week: "It is time some radical changes were introduced to eco fashion, so that, instead of being perceived as a marginal phenomenon, it will become trendy."
Julia Polonskaya, Sustainable Finance Program Coordinator with WWF Russia, believes Russia may be one of the most promising markets for the development of green clothing brands: "Foreign markets are starting to take an interest in Russian designers.
However, none of our fellow citizens can compete in the luxury segment yet, except for Vika Gazinskaya [a designer who has refused to use animal fur from the very beginning of her career]. Other luxury fashion designers from Russia, though, seem to be in no haste to join the environmental movement."
According to her, for sustainable luxury to take root in Russia, designers should start offering innovative materials and fashionable designs.
Tatyana Kargina supports this view: "We understand that absorbing a new culture always takes time. Interest in the area is on the rise and awareness is widening. We had no such demands in the past at all, and whatever happened here only echoed developments in the West. Now, we are seeing that Russia has something to offer as well. Maybe, things aren't developing as fast as they could, but what we do have is a good start."
All rights reserved by Rossiyskaya Gazeta.