Legendary band Mumiy Troll to rock London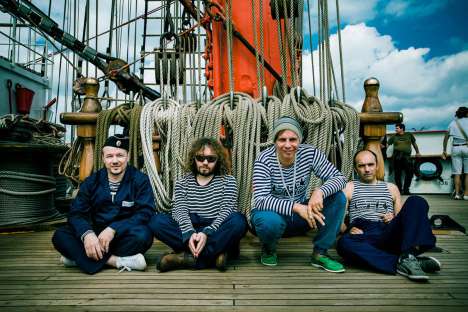 The next band's album will be recorded with both English and Russian versions. Source: PressPhoto
Fresh from completing their latest album, written while sailing the world on the Sedov ship, Ilya Lagutenko's band will perform this Saturday at the O2 Islington Academy.
Formed in the early 1980s in Vladivostok, Mumiy Troll – one of Russia's most successful rock bands – has gone from being what the Soviet authorities deemed "socially dangerous" on a par with the Sex Pistols to a weighty musical entity in Russia with a growing international presence.
Voted "Best Band of the Millennium" in Russia, the self-proclaimed "rockapops" group is known for their melodic hard rock music and Lagutenko's deliberately androgynous performance style.
While many still struggle to pronounce the band name ("Moo-me Trol"), audiences from Japan to Greenland have seen the four musicians live on stage.
Of late, they are setting their sight on the lucrative US market, with an English language album ("Vladivostok") released some months ago. Yet Asia is no less important for them.
Swimming With Sharks. Mumiy Troll. Source: YouTube
"I grew up in Vladivostok, which is much closer to Asia than the West. Asia is a place that feels closer to me," the band's leader, Ilya Lagutenko, says.
A Russian whose formative years straddled the Soviet and post-Soviet eras, Lagutenko is used to change. When the Soviet Union collapsed in 1991, he was an exchange student in Dalian, China.
Upon hearing the news during a backpacking trip, he called the Russian embassy inquiring what to do but eventually decided to stay put while watching the changes unfold in his country.
"Everything happened so quickly. I was too young to grasp the situation. But it was a most memorable experience... I'm lucky to have lived in a time of big changes," he says.
Today Lagutenko and his teammates are currently working on creating a Vladivostok music festival in August that will feature young musicians from different parts of Asia, including Hong Kong, Korea and Singapore.
"The Russian music scene is now very international, but Asia is not aware of that, just as people in Russia don't know much about Asian music. This festival will hopefully bring some changes," Lagutenko says.
All rights reserved by Rossiyskaya Gazeta.