Expanded cultural links benefit "both our peoples"- Ira Malhotra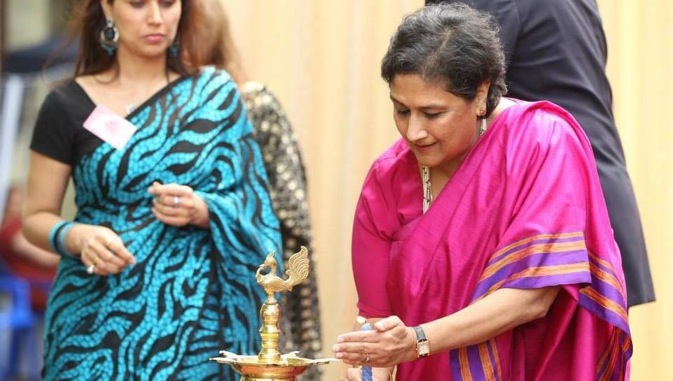 Mrs. Ira Malhotra at the inauguration of IWA Summer Bazaar 2013. Source: Vadim Shults/Embassy of India in Moscow
In an exclusive interview, the wife of India's Ambassador to Russia talks about the expanding bilateral cultural calendar and the Indian Women's Association's activities.
The Annual Summer Bazaar at the Indian Embassy in Moscow has become a good tradition. Lead us through this year's version.
Every year we provide a cultural programme at our Summer Bazaar, which has different elements from the previous year. This year we showcased a wider range of Indian folk, classical and Bollywood dances. We also had Russian folk dances, besides a magic show. We have increased the activities for children and there was also a wider variety of items on sale this year. The assortment of stalls was different.
Mrs. Ira Malhotra. Source: Embassy of India in Moscow
Your husband, Ambassador Ajai Malhotra has increased the sphere of bilateral interaction in the cultural sphere during his tenure in Moscow. How do you evaluate the present enhanced scale of the Indo-Russian cultural cooperation?
I am happy that our bilateral interaction, especially in culture, has significantly increased over the past two years. India and Russia have traditionally enjoyed a strong friendship and conducted regular exchanges in art, culture, academics and other fields. India attaches great importance to its bilateral relations with Russia. Over the past two years, our cultural exchange has witnessed an upward trend in performing and non-performing arts. The expanded cultural linkages have benefited both our peoples and are a wonderful development. What is to be appreciated even more is that at the people-to-people level it never seems to be enough!
Wherever we travel in Russia, my husband and I are always approached with suggestions for even wider cultural interaction. This reflects the genuine interest and love that Russians have for Indian culture and that something about India clearly seems to capture their imagination. It is also very heartwarming to see that our cultural exchange is driven by demand emanating from our Russian friends and is not merely due to encouragement from India.
What are the new events that the embassy is planning to hold in the nearest future?
The embassy organises cultural events in Moscow and other cities of Russia through its Jawaharlal Nehru Cultural Centre. Such presentations will be held from July 2013 onwards as part of the Festival of Indian Culture in Russia. Indian performing art groups in classical dance, music, folk/popular dance will participate in it. Indian dance, music and yoga presentations are also being planned during City Days or cultural festivals organized by cities like Astrakhan, Cheboksary, Kaliningrad, Kazan, Krasnodar, St. Petersburg and Ufa. Exhibitions and other cultural presentations will be organized by Russian artistes and groups in Moscow that are familiar with facets of Indian culture.
What are the Indian Women's Association's (IWA) plans for 2013-2014? What's your assessment of the organisation's contribution in charitable activities?
In 2013-2014 we plan to continue to make the IWA monthly meetings fun and interesting for our members so as to make their stay in Moscow fulfilling and memorable and again work up to a successful Summer Bazaar, so that we can support as many orphanages, special schools and Homes for the elderly as possible.
We are satisfied by the contributions we make to support charitable organizations. We are a small group of about 64 members and have a core committee of five women so we undertake what we can within our limitations. Next year we will follow up with some groups that we support on a regular basis and will look to assisting some new ones.
I know that the IWA supports Children Homes in Yaroslavl, Severodvinsk and other Russian cities. Can you please elaborate on this? Do you intend to expand your help to even more children's homes across Russia in future?
Yes, over the last two years we have supported homes for children or the elderly in Astrakhan, Kaliningrad, Moscow, Severodvinsk, Tula, Ufa, Vladivostok, Yaroslavl and elsewhere. Our means are modest, yet we definitely aim to extend our support to as many such Homes in Russia as we can.
All rights reserved by Rossiyskaya Gazeta.