Ranbir Kapoor looks forward to Russia release of latest film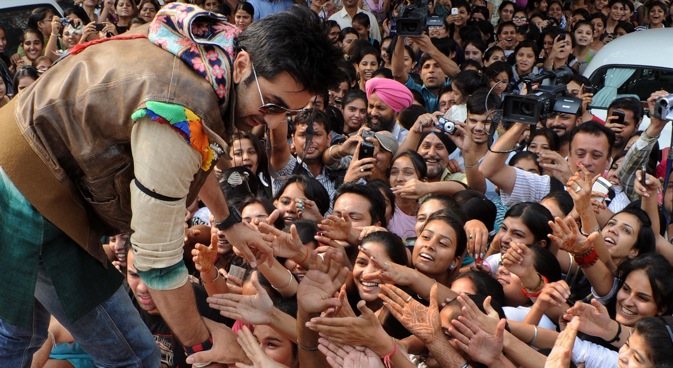 Bollywood heart-throb Ranbir Kapoor. Source: Image Forum
Yeh Jawaani Hai Dewani will be the first Ranbir film to be released in Russia. His grandfather remains a legend in the country.
Bollywood heart-throb and grandson of Raj Kapoor, Ranbir Kapoor is excited about the release of his latest film in Russia, the Indian Express said on Thursday.
The film 'Yeh Jawaani Hai Deewani' will be released in cinema halls in Russia, soon and is Ranbir Kapoor's first release in the country, where his grandfather remains a legend till this day.
"My grandfather was very popular in Russia," Ranbir told the Indian Express. "The people of Russia gave tremendous love to him and his films. Finally, I am getting a chance to release my film Yeh Jawaani Hain Deewani in Russia.
"I hope that Russia opens up a very big market for Indian cinema. I think Indian film market is growing globally we have big markets in Brazil, China, Japan and I think Russia coming into the picture would be great for Indian cinema," Ranbir told the paper.
The film directed by Ayan Mukerji and produced by Karan Johar, stars Ranbir and Deepika Padukone in the lead roles and will release in India tomorrow.
The mid-1950s witnessed the epoch of Raj Kapoor films in Russia and made Indian movies a staple of Soviet cinemagoers.
The most popular Indian film throughout the entire Soviet period was Awaara, in which Raj Kapoor was both director and lead actor. "Back then, Raj Kapoor was what we'd call a sex symbol," says cosmetologist and huge Bollywood fan Alyona Kuznetsova. The film was shot in India in 1950, but the black-and-white masterpiece didn't hit Russian screens until four years later, where it promptly racked up 63.7 million ticket sales. Only two films in the history of Soviet-period film managed to attract more viewers – The Magnificent Seven (with 67 million tickets sold) and the Mexican film Yesenia (91 million).
All rights reserved by Rossiyskaya Gazeta.