Qualifying round begins for Russian–Indian music festival in Goa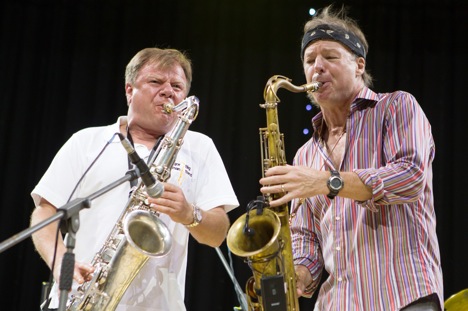 There were 270 groups in the qualifying round in Russia. Source: RIA Novosti
The jury will have to select 3 Indian youth bands to perform at next year's festival on the warm sands of the western Indian state.
More than 25 Indian groups have already applied to take part in the qualifying round for Great Live Music 2014, the second Russian–Indian jazz & rock festival in Goa, Ksenia Goryayeva, the festival's president and head of the Russian House in Delhi said. "We hope the qualifying round in India will be as successful as it was in Russia," she said. "We've received applications from 27 youth bands in a week."
Based on the results of this round, the Great Live Music 2014 jury and organising committee will select three groups, whose flights to Goa and accommodation there will be paid for. The musicians will also get the opportunity to perform on the same stage as Indian, European and Russian bands.
There were 270 groups in the qualifying round in Russia, with the St Petersburg bands ODNI, Radost, Stepanov's Starlings, Yemen and Shiva going through to the final on the basis of audience votes, along with Moscow's Best Day and Kharkov's Royal Corvus, who were the jury's choice.
The first Great Live Music festival, which took place on 1–6 February this year, featured more than 20 groups from Russia, India, the United Kingdom and Ukraine. Russia was represented by musicians from Moscow, St Petersburg, Ekaterinburg, Krasnodar and Volgodonsk. They included bands such as Masha and the Bears, Seventh Race, Gleb Samoiloff and the Matrixx, and MONOLIZA, jazz players such as Andrei Kondakov Band and the Maxim Nekrasov Band, and also special guests including the drummer Ket, the DJ and composer The Orange, and the rapper Noize MC.
The French singer Isabelle Geffroy, who performs under the name of Zaz, the rock group Auktyon and jazz player Andrei Kondakov have already provisionally agreed to take part in the second festival. The organisers are also considering the possibility of inviting the rock group Aquarium and the Italian jazz-pop band Musica Nuda.
Goa is one of the most popular holiday destinations for Russians. About 100,000 people from Russia visited resorts in this Indian state in the last tourist season. This year about 130,000 Russian tourists have stayed there.
First published in Russian in ITAR-TASS.
All rights reserved by Rossiyskaya Gazeta.