Over the past 13 years, more than 400 musicians from all over the world have climbed the "Musical Olympus." The festival is held under the auspices of the World Public Forum's Dialogue of Civilizations, whose concerts take place in the cities of Europe (Berlin, Rennes, Baku and Zurich), Asia (Singapore) and the United States (New York).
In March 2013, the famous American Carnegie Hall hosted the Musical Olympus for the seventh time. The organizers' next ambition is to conquer the Royal Festival Hall in London.
RBTH talked to the Australian conductor Daniel Smith, who participated in the festival.
Russia Beyond the Headlines: Daniel, tell us a few words about yourself.
Daniel Smith: I was born in Sydney, in Australia. I live out of a suitcase, because I'm always in a different country every week — so my house is a suitcase. And I have an apartment in Rome, because it's easier to travel in Europe. Australia is very far: Twenty-four hours on the plane, and Russia is 25. It's not so long (jokingly).
RBTH: Is classical music popular in Australia?
D.S.: Yes. And I also hope to make classical music more popular. I love the tradition of bringing Russian music all around the world. And I hope to continue this tradition, but in Australian style.
RBTH: What can you say about the hall — Grand Philharmonic Hall — where you just performed?
D.S.: This hall is extremely unique for me, because it's beautiful, I've never been in Russia, and it's my first time. Someone said that I'm the first Australian here — I don't know if it's true.
The first thing that I noticed was the acoustics. I have mainly better acoustics from the stage where I am. You can perfectly hear every note of every instrument: This is natural acoustics.
It was built so long ago; the new halls in the world cannot match. And I think this is a great honor for St. Petersburg to have such a hall. For me, the most exciting thing was that I was able to play music with this orchestra and make real music.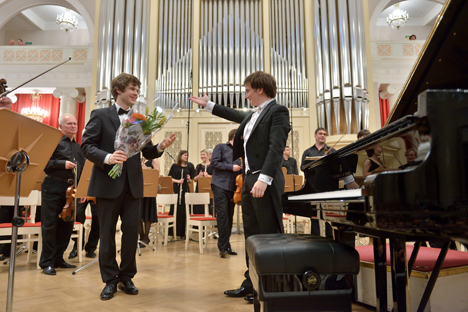 Daniel Smith (L) and the German pianist Alexei Gorlach at the Musical Olympus Festival. Source: Vladimir Dolotov
Because you don't have to worry about anything: It's all over; you can hear everything; you can enjoy the sound you create. And I hope the audience was also able to enjoy.
RBTH: Do you feel a difference between Russian and European audiences?
D.S.: Yes, absolutely! Here, I noticed, is mainly a quiet spot. Maybe I was too much inside and I didn't notice, but, from where I was, I didn't hear anyone coughing, moving, or chairs moving, or programs turning.
It was completely silent! It was a special atmosphere — it comes from the audience. One thing that I noticed, from the start of the concert to the very end, is that the whole audience came on a big journey with me and the orchestra, through the whole concert. And I really felt that, and I'm very happy for this.
RBTH: Have you met with Russian conductors — Valery Gergiev, for example?
D.S.: Not yet, but I really hope to. He is a real idol not only for me, but for so many people. Also, I want to see the new stage of the Mariinsky. I hope I'll have some hours before the flight.
Since I've arrived here, I've been at rehearsals and meetings, and I have not been outside. The only thing that I've seen is the hall and the inside of the hotel.
RBTH: What does the visit to St. Petersburg mean to you?
D.S.: It's the start of a very exciting journey. The conductors stood at the same position — Tchaikovsky, Rachmaninoff, Prokofiev, Stravinsky — and I was very aware when I walked onto the podium for the first time and also tonight. These people are something more than human, for me.
While standing on the same place where they stood, I had a strange feeling: when you have someone who was so great, and you are in the same places; it's something that I cannot describe.
This experience is a great honor for me. You can read many books, you can learn music, but, if you are here, that's what makes a difference.
You feel Russian culture, Russian people and the passion you get from the musicians — and it makes life perfect!
Maria Balakina, the Musical Olympus festival foundation's director:
"Many young musicians who have won music competitions think that all concert halls will welcome them. However, in reality, the calendars of concert halls and agents are firmed up many years in advance. In order to shorten the route from their first successes to appearing in front of audiences, our festival, Musical Olympus, gives presentation concerts all over the world. It's true to say that to perform, let's say, in Carnegie Hall in New York would be beyond the wildest dreams of most young musicians." According to Balakina, the Musical Olympus concerts have already made their mark in New York. The Russian clarinetist Nikita Liutikov, known for his participation in the St. Petersburg Festival, has appeared at Carnegie Hall.
All rights reserved by Rossiyskaya Gazeta.