100 years of Russian art at the Venice Biennale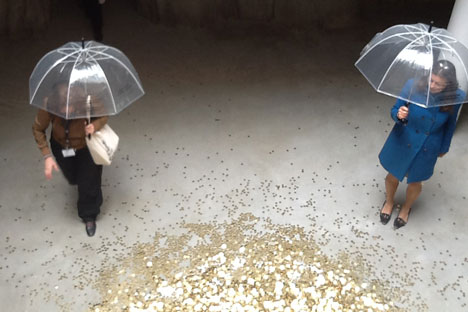 Russian Pavilion is one of the oldest, built before the World War I. Source: Mariella Caruso
Russian Pavilion celebrates a century at the Venice Biennale. The main attraction at the Pavilion is an artist Vadim Zakharov with his conceptual work of art 'Danaya'.
The 55th edition of the Venice Biennale opened on June. Once again, Russia is determined to play a key role in the event. In order to do so, Stella Kesaeva, on her second mandate as Pavilion director, chose the director of the Berlin National Gallery, Udo Kittelmann, as Pavilion curator.
He is the first "foreigner" tasked with the artistic direction of the Russian Pavilion, which celebrates its 100th anniversary this year. The Pavilion was planned and built by the architect Alexei Shchusev.
The main attraction at the Pavilion will be Vadim Zakharov — a conceptual artist who previously exhibited at the 49th Biennale. Among his latest achievements was his participation in the collective art exhibition "Russia" at the New York Guggenheim Museum.
Zakharov's Danaya surprised Venice. Source: Mariella Caruso / YouTube

His work is often described as "labyrinthine" (due to the artist's tendency to depict an infinite amount of details) and will most likely take visitors by surprise.
"We don't want Russian art to remain isolated. Choosing Kittelmann as a curator is an important step toward elevating Russian art to the international level," said Kesaeva, explaining her momentous choice.
Udo Kittelmann, flattered, expressed his joy in having the honor to "introduce an artist of Vadim Zakharov's calibre to the Biennale audience."
During the Biennale, there will also be a series of collateral events involving other Russian artists. In the Northern Dockyard, the collective art exhibition "Love Me, Love Me Not" will collect the most recent works by 17 artists from Azerbaijan, Iran, Turkey, Russia and Georgia.
This group includes the young Taus Makhacheva, who works in London and Moscow.
Through September 15, 2013, the Ca' Foscari exhibition hall will host the "Lost in Translation" exhibition, curated by Antonio Geusa and the Moscow Museum of Modern Art (MMOMA).
The exhibition analyzes the historical, political, social and economic dimensions of Russian art over the past 40 years, presenting 100 works by 62 artists.
All rights reserved by Rossiyskaya Gazeta.