A cruise liner curves elegantly across a printed sea; above it, the large, red letters USSR blaze out of a yellow sky.
A postcard superimposed on these letters, with a Soviet stamp and a US address, reads: "This is more than a pleasure trip – it is a voyage into a new world."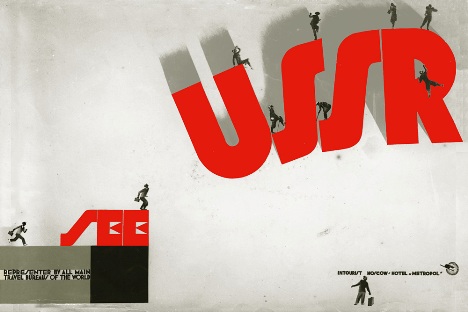 The exhibition showcases travel posters. Source: PressPhoto
The slogan could not be more apt for this first flowering of a brand new space for art and design in central London with an exhibition of 1930s travel posters.
GRAD, the new Gallery for Russian Arts and Design, is a wood-floored, well-lit space near Oxford Street in central London.
Its inaugural exhibition, "See USSR", running until 31st August, showcases some beautiful, art deco-style Intourist posters, such as Alexander Zhitomirsky's iconic "Georgian Military Highway" in which a bright blue, open-topped car rolls merrily along the precipitous mountain road with snowy peaks in the distance.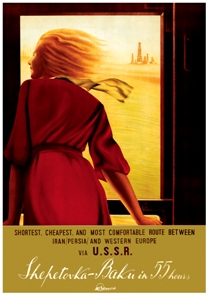 The USSR travel poster. Source: PressPhoto
These posters, printed in several languages, portray a depoliticized and visitor-friendly Soviet Union, employing skilled artists to combine a westernised aesthetic with distinctive landscapes.
They were aimed at foreign visitors and rarely seen within Russia until recently. An exhibition in Moscow's Vinzavod cultural center three years ago included some of the posters currently on show at GRAD.
Sergei Sakharov's white, Crimean castle above a deep blue, cerulean ocean, fringed by peach and pine branches is the kind of advertising that pulls the viewer into paradise.
Maria Nesterova's "USSR Health Resorts", with its orange parasol and palm trees, is equally appealing, but the effect of her 1937 "Baku" is more complicated; the metal towers and oil tanks in the foreground evoke industrial pride rather than sightseeing.
The new gallery's director, Elena Sudakova, has co-curated the exhibition together with Irina Nikiforovna, head of the show-stopping department of 19th and 20th century European and American art in Moscow's Pushkin Museum of Fine Arts.
The idea for GRAD sprang out of a conversation between the two of them a year ago.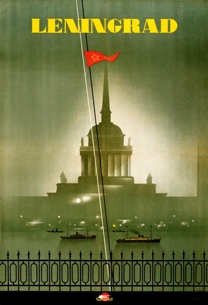 The USSR travel poster. Source: PressPhoto
Sudakova hopes to build on her links with several Moscow museums to explore "stylistic and aesthetic correspondences" between Russia and various countries.
She acknowledges the work of pre-existing organisations like Pushkin House and Calvert22 in raising awareness of Russian art in London, but feels it is still under-represented and hopes eventually to establish a permanent Museum of Russian Art in the city.
John Milner, a professor at London's Courtauld Institute of Art, speaking at gallery's opening, described the "east-west conversation in these posters" as a great way to launch GRAD and to build bridges, not only between cultures, but also between academic and commercial fields in art history.
Milner has been instrumental in the recreation of a lost poster, in which dynamic figures are "golfing, sightseeing, drinking and enjoying themselves in the sunshine" on the letters USSR.
Themes are identified in the exhibition, including cultural attractions, national minorities and "travelling in style". Festivals of dance and theatre, concerts, rowing on sunlit rivers, hunting, skiing and spa visits entice would-be travelers.
The curators point out how the artists were inspired by 1920s and '30s western travel posters, in the art deco sweep of a railway bridge or a glamorous woman with her scarf blowing in the wind.
The leisured journeys depicted are distinctly at odds with the tractor-driving peasants and factory workers of internal Soviet propaganda.
Filmmaker and critic Lutz Becker similarly observed at the gallery's opening how in the Soviet reality "local languages and cultures were suppressed," but in the fairytale world of the tourist posters, "there is still a celebration of variety."
These complex undercurrents are part GRAD's new dialogue between art and history, explored through a program of seminars and publications.
Alongside the posters are travel magazines and a series of printed textiles from the Trekhgornaya Factory, which show contrasting images.
Where the posters depict an elegant, luxurious destination, these fabrics, designed for the domestic market, are all workers and weaponry, machines and revolutionary leaders.
Sudakova is hoping to find corporate funding for her not-for-profit gallery to continue her program of "rarely seen graphic arts … from Russian collections and specially commissioned pieces."
The next exhibition, scheduled this autumn, plans to use scale models of Vladimir Tatlin's twisting, constructivist "Monument to the Third International" and the futuristic Gazprom Tower as the basis for debates about Russian, Utopian architecture.
For information about GRAD's exhibitions, go to: www.grad-london.com
The Intourist posters in the exhibition are on loan from the Antikbar Gallery's unique collection. http://antikbar.co.uk/
All rights reserved by Rossiyskaya Gazeta.