Social dramas and controversy triumph at Sochi film festival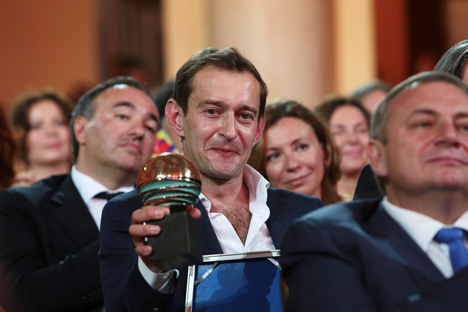 Russian actor Konstantin Khabensky scooped the Best Actor prize. Source: Ekaterina Chesnokova / RIA Novosti
Konstantin Khabensky's troubled geography teacher, residents of Western Siberia and the women of the Finno-Ugric Mari people are the unlikely stars of this year 'Kinotavr' festival.
Konstantin Khabensky's sympathetic portrayal of an alcoholic high-school geography teacher, in Alexander Veledinsky's "The Geographer Who Drank His Globe Away," scooped the Grand Prix and Best Actor prizes at the closing ceremony of Russia's biggest film festival, Kinotavr in Sochi, on Sunday.
In "Geographer," Khabensky, the star of several Russian blockbuster movies, including "Night Watch" and "Day Watch," plays a reflective loser in full-on mid-life crisis mode: His wife openly cheats on him, while his students mock him and a female senior has a crush on him.
Presenting Khabensky with the Best Actor prize, actress Victoria Tolstoganova said of his performance: "My soul was bursting into tears, even while I was rolling on the floor, laughing." The film also picked up the Best Music and Film Distributors' prizes.
The Alexander Veledinsky's "The Geographer Who Drank His Globe Away". Source: YouTube
The festival was dominated by gritty social dramas, with auteur Vitaly Mansky's laconically-titled "Pipeline," a documentary road movie about the hardscrabble lives of people living along the route of a gas pipeline in Western Siberia, picking up Best Director and Critics' Prize for Mansky, the organizer of Moscow's ArtDocFest festival.
Another social drama, "The Delivery Guy" by Andrei Stempkovsky, won plaudits for its story of a man who delivers pizza to raise money for his father's medical treatment.
Erotic content
Controversy at the festival was provided by three films with explicit erotic content, which may have difficulty securing distribution in cinemas given growing conservatism toward the depiction on sex on Russian film and TV, and a generally tougher line on morality promoted by the authorities in tandem with the Russian Orthodox Church.
"Intimate Parts," written and directed by Natalya Merkulova and Alexei Chupov, tells a tale of ordinary middle-class Muscovites and their secret sex lives. One of the characters, an insecure public servant in her early forties, defends morality on an ethics committee while being consumed with sexual desires.
Yulia Aug, who plays the official, received Kinotavr's Best Actress award, while Merkulova and Chupov received the Best Newcomer's prize for the film.
Another film, "Celestial Wives of the Meadow Mari" by Denis Osokin, received three awards, including Best Script, Best Cinematography and the Critics' Prize.
A compilation of 23 short stories, mixing mysticism, eroticism and anthropology, the film shows dozens of women from the Mari people, a Finno-Ugric ethnic group, through the medium of their sexual dreams and relationships with Pagan gods.
Among the festival's sensations was Russian TV host and celebrity opposition activist, Ksenia Sobchak, who starred in "A Romance with Cocaine" by the late Gennady Sidorov, where she was pictured in numerous erotic scenes. The film was part of the non-competition program.
Throughout the festival, organizers also showed a series of films in a square next to the main cinema, where the public could watch a combination of art house and mainstream movies.
On the festival's final day, the People's Choice prize was awarded to "Legend Number 17" by Nikolai Lebedev, a biopic about Russian ice hockey legend Valeri Kharlamov. The film has grossed about $30 million in Russia so far.
All rights reserved by Rossiyskaya Gazeta.