Russian Kitchen: Comfort food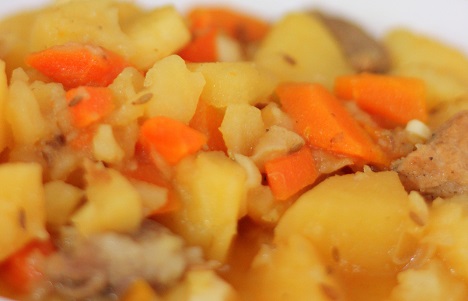 Potato and Meat Stew. Source: Divya Shirodkar
Sometimes a good Russian stew is exactly what's needed to lift sagging spirits. If you're vegetarian skip the chicken and add zucchini or brinjal.
When you feel sad or down or sick, it's not fancy restaurant food but something home cooked that helps soothe the soul. There is a common name for the food that makes you feel comfortable, that makes you feel home – "comfort food." The name speaks for itself – it is the type of food that makes you feel comfortable and many times provides a nostalgic or sentimental feeling while eating it. For different cultures, for different age groups, different genders, it is different food. There are psychological studies done regarding comfort food and how it affects the human mind. Comfort foods may be consumed to positively pique emotions, to relieve negative psychological effects or to increase positive feelings.
For most of my Indian readers comfort food would probably be rice and dal /sambar, idli, or maybe curd rice. With the exception of India, comfort food is usually not spicy, easy to make, easy to digest, nutritious and is very common. For many women it is chocolate, for some cultures it is mashed potato, for others macaroni and cheese or pasta. Some say that Russian comfort food is … sunflower seeds. It is a different sort of comfort food; it's a nerve-calmer. Sunflower seeds are to Russians what chewing gum or cigarettes are to other cultures. These are the same sunflower seeds that you can buy in pet shops: with shells that you crack with your teeth, then chew and then spit.
It seems that while staying in India my comfort food preferences have changed. I need rice and dal to comfort myself, but if there is one Russian meal that comforts and soothes me, it's a type of stew made of potatoes and meat.
Potato and Meat Stew (Serves 5-6)
Ingredients:
Potato 1 kg
Carrot 2 pc
Onion (large) 1 pc
Tomatoes 200 g
Mushrooms 600 g
Chicken 500 g
Seasoning (salt, black pepper, Kashmiri chilli)
Coriander leaves
Preparation:
1. Cut vegetables into half-inch sized cubes. Chicken should be curry cut.
2. Fry onion and carrot in sunflower oil till golden brown (at this stage you can add any Indian masala to your taste. I find this dish very tasty with addition of jeera seeds)
3. Add chicken and fry to seal all the juices by browning the outer part. Add mushrooms and stir-fry a little bit more.
4. Add potatoes, tomatoes, salt, pepper, Kashmiri chilli (which will give a little kick and attractive red colour), and water (or stock) to cover the whole mixture. Bring it to simmer and boil until potato is fully cooked. You could use pressure cooker (I presume 3 whistles would be enough), that way you save 30-40 minutes of boiling.
5. Garnish with chopped coriander leaves.
The vegetarian version of the same dish can be made by omitting the chicken and adding vegetables of your choice. I would recommend zucchini, brinjal or green peas.
Priyatnogo appetita!
All rights reserved by Rossiyskaya Gazeta.