Yekaterinburg street ad wins four Golden Lions at Cannes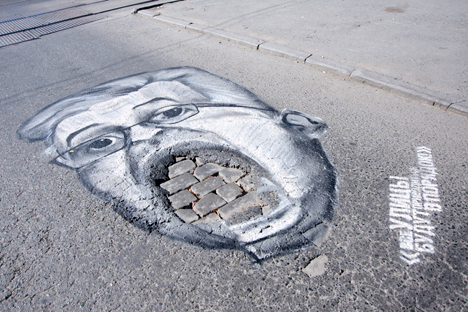 The 'Make the Politicians Work' social project impressed Cannes. Source: ITAR-TASS
For its "Make the Politicians Work" social street project, the Russian ad agency Voskhod has won a record number of awards at the Cannes Lions International Festival of Creativity.
In a first for Russia's advertising industry, the "Make the Politicians Work" social project won four Golden Lions at the Cannes Lions International Festival of Creativity.
The work won two gold prizes each in the PR category and in the Promo & Activation category.
"Never before in the entire history of Russia's advertising market have Russian ad agencies won so many prizes at the Cannes festival at once[...] This is an absolute record," a delighted Pavel Skosyrsky, commercial director of the Voskhod ad agency, said.
The joint project of Voskhod and the Yekaterinburg news agency Ura.ru (whose journalists have since migrated to the Znak.com portal) made a lot of waves in 2012.
'Make the politicians work' by the Yekaterinburg ad agency. Source: RA Voskhod / YouTube
"We wrote very frequently about public roads [in Yekaterinburg]. Everybody is aware of the condition they are in in Russia. So we kept writing and finally realized that nobody was paying any attention. So we decided to approach this problem creatively – and it worked!" said Znak.com's editor-in-chief, Aksana Panova.
As part of the project, faces of officials – including the recently appointed regional governor, the city's mayor and the city's chief executive – were drawn on Yekaterinburg roadways.
Potholes were incorporated as part of the portraits. Each picture was accompanied by a quote from the bureaucrat's speeches: "Road reconstruction is our key mission," for example.
Yet the project authors did not stop there. Just as the creations of the anonymous street artists were going viral in Yekaterinburg's media, hidden cameras caught city workers on video, hastily painting over the portraits and filling the potholes with asphalt as a quick fix.
The next night, signs that read "Painting it over is not fixing it" appeared near the potholes.
After that, city workers gave up and fully repaired the tagged roads.
The "Make the Politicians Work" project collected a host of prestigious advertising awards during the year, but the win at the Cannes Lions festival has been its biggest success.
The festival will continue through June 22, and Voskhod's ad men and women hope to win more prizes in other categories.
First published in Russian in Gazeta.ru.
All rights reserved by Rossiyskaya Gazeta.