Isinbayeva to take a "break" after Moscow World Championships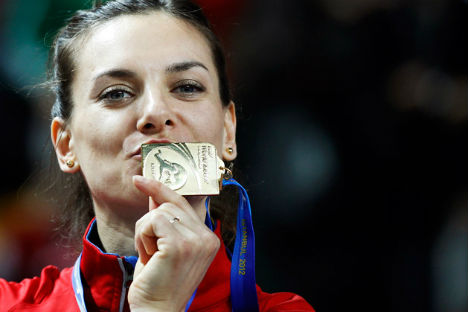 Yelena Isinbayeva said she has wanted to settle down and start a family for a long time now, but leaving pole vaulting behind is not so simple. Source: Reuters / Vostock Photo
Russian pole vaulter Yelena Isinbayeva wants to get married and have a child but would still like to participate in the 2016 Olympics in Rio de Janeiro.
Two-time Olympic gold medal winner Yelena Isinbayeva said she plans to take a break from her pole vaulting career to start a family. "I would like to take a break in my career, get married, and have a child," the 31-year-old Russian said last week at a press conference in Ostrava, Czech Republic. "I've been thinking about it a lot. A break has its pros and cons. Of course, the 2016 Olympic Games in Rio de Janeiro are on my mind. It would be really great to win one more Olympic medal there."
As for the near future, Isinbayeva has her sights set on the world championship in Moscow. "I'm very motivated for this tournament. I feel well-prepared," ITAR-TASS quoted the star athlete as saying. "I would really like to set a new world record in Moscow."
"As of today, yes, I can confirm that Yelena will take part in the Russian championship. What tomorrow will bring – I don't know," Valentin Maslakov, head coach of the Russian national track and field team said. "Sometimes plans change. But if she said ahead of time that she'll compete, then she'll probably compete. I think her performance will be interesting to everyone: to her fans, other professionals, rivals, and herself." The key word here is "probably". No one can say with 100 percent accuracy at this point what is going through the veteran athlete's head.
Isinbayeva last spoke of a possible retirement less than a month ago, after competing in the Shanghai Diamond League, when she said that she would have quit after the Olympic Games in London, but only if she had won the gold.
"At first I was going to retire from the sport in 2013, after the world championships," Isinbayeva said last November. "But the closer the day came, the better I understood that I didn't really want to retire so early. It just gets tough. Sometimes my health isn't all there. But purely emotionally, I'll never be able to get enough of the feeling on the day of a meet. I'll miss winning the medals and the national anthem playing in my honour."
The champion athlete said she has wanted to settle down and start a family for a long time now, but leaving pole vaulting behind is not so simple. The problem is not only her desire for a rematch after her defeat in the 2012 Games, but her sponsorship contracts, whose conditions do not allow her to leave the sport.
First published in Russian in Gazeta.ru.
All rights reserved by Rossiyskaya Gazeta.