India's Inderjeet Singh wins silver in Kazan Universiade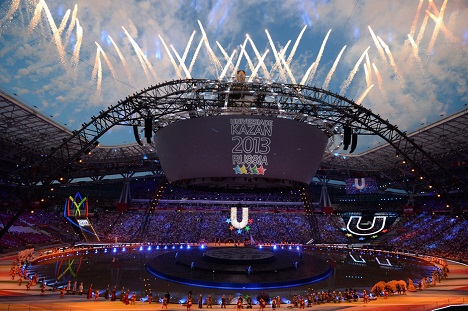 41 Indian students are participating in the Universiade in Kazan. Source: Grigoriy Sisoev / RIA Novosti
23-year old student produced a personal best of 19.70 metres in the shot-put to earn India's first medal in the World University Games.
Shot-putter Inderjeet Singh won India's first medal in the XXVII Summer Universiade (World University Games) in Kazan by taking the silver with a personal best of 19.70 metres. The gold went to Russia's Alexander Lesnoi (20.30 metres) and the bronze to his and compatriot Valeriy Kokoev (19.65 metres).
Singh won the medal, despite competing in smaller shoes, which had to be borrowed as his check-in baggage was misplaced en route from Mumbai to Kazan. His practice shoes, competition shoes and kit were missing, according to a report in the Indian Express. "I was really upset that my luggage including my kit didn't arrive. The airline has now promised to send me the baggage by tomorrow. But the fact is that when I was competing I wasn't comfortable," the silver medalist told the paper.
"He put in four hours in the morning and another four hours in the evening," Inderjeet Singh's coach Pritam Singh told the Indian Express. "While his technique has improved over the years he is blessed with great strength as he is six foot five inches tall and weighs 140 kilograms. During training Inderjeet lifts up to 230 kilograms in the bench press," the paper quoted Pritam Singh.
The performance of the student of Maharishi Dayanand University, Rohtak, came under praise from Ajai Malhotra, the Indian ambassador in Moscow. "My heartiest congratulations to Inderjeet on this achievement as also for registering his personal best with a throw of 19.70 metres while doing so," Malhotra said, while wishing the entire Indian sports contingent more successes at the games.
The first Summer Universiade, held in Turin, Italy, in 1959, involved 1000 athletes. This year, student athletes from 170 countries are competing across 27 categories – from gymnastics to water polo.41 Indian students are participating in the event.
All rights reserved by Rossiyskaya Gazeta.