Dior on Moscow's Red Square: 54 years later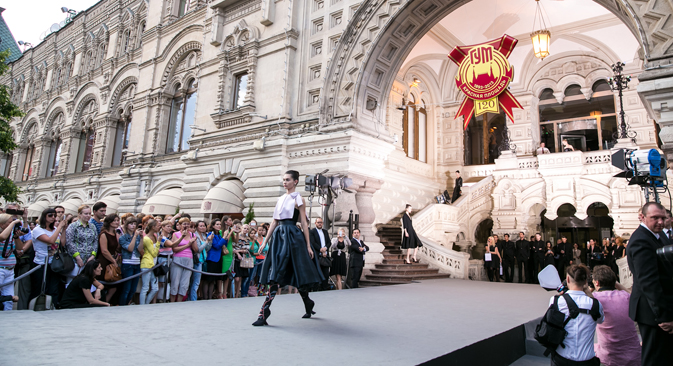 Red Square welcomes Dior's collection. Source: Press Photo / GUM
Dior hosts its second runway show in Russia since 1959, commemorating the 120th anniversary of the founding of GUM, Moscow's main shopping mall.
On July 9th, Red Square welcomed Dior's fall-winter 2013-2014 collection.
The organizers built a gigantic cube with the fashion house's logotype for the event, which brought up associations with the paintings of Salvador Dali. The show-room inside was decorated with balls of mirrored glass to reflect models during the runway show.
All of Moscow's famous fashionistas were invited, with which Sidney Toledano, president of Dior, posed for photographs.
Among the guests of honor were producer Renata Litvinova, former director of the Pushkin Museum of Fine Arts Irina Antonova, it-girl Miroslava Duma, TV-presenter Kseniya Sobchak, editor of glossy magazine Svetlana Bondarchuk, and fashion expert Evelina Khromchenko.
Models at the Dior Fashion House autumn-winter collection show on Red Square. Source: Press Photo / GUM
Natalia Vodianova, who is a rather rare Moscow-guest, was also present at the event, clad in a light pink double-breasted pant suit.
Raf Simons, Dior's creative director, couldn't make it to Moscow, but his classic, minimalistic designs, sometimes even with elements of retro-futurism, left the Moscow crowd completely breathless.
The Dior event was held while GUM was in the process of celebrating its 120th anniversary.
The models spent the entire day at the shopping mall preparing for the evening's runway show.
It was the 50-year old photographs of Dior designs hanging in GUM, which many remembered while taking in the sight of modern models.
Models in GUM's halls in Moscow in June of 1959. Source: Press Photo / GUM
The first Dior models landed in Moscow in June of 1959 and they made quite the impression.
Twelve French models dressed in Dior and Yves Saint-Laurent gowns taking pictures on the Red Square and in GUM's halls - that is what really evoked the genuine interest of Soviet women.
At the time runway shows for the public masses took place 3 times a day. They say that around 30,000 people wanted to experience a real runway show, but only 12,000 were actually able to.
The French perfume was sold out extremely fast, but the French "fleur" was forever left in Russia.
According to the organizers of the event, an exposition concerning the French fashion house Louis Vuitton is in the making.
It will take place during autumn in Moscow in order to mark 120 years since the founding of GUM.
All rights reserved by Rossiyskaya Gazeta.