Russians continue to "set the trends" in gymnastics - Alina Kabaeva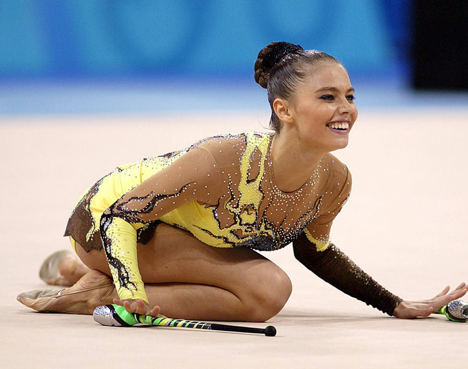 Alina Kabaeva: "I live and breathe this sport and am not going to leave it." : Source: Imago/Schreyer
In an interview with Izvestia, the rhythmic gymnastics Olympic champion discusses her own nostalgia for the elite sport and the recently-concluded Universaide in Kazan.
Do you have any comments on the results of the Universiade in Kazan?
I am thrilled with the organization of the games and the Russian gymnasts' performances. I know how much work the athletes put in to perform at such a high level. It is safe to say that the Russian girls are the best in the sport, thanks to the coaches, doctors, massage therapists, and most of all, coach Irina Viner. I watched the team's performance with great pride.
Don't you feel nostalgic for the elite sport? Don't you want to get back on the floor?
I was nostalgic when I had just finished competing. Now I enjoy watching the performances. I thank rhythmic gymnastics for my having become an Olympic champion. I live and breathe this sport and am not going to leave it.
So you aren't feeling any professional envy for the athletes who are performing today?
If I am, it's a good kind of envy. [Today's] girls are young and can still perform. I know how much work they invest, and now the most important thing is for them not to relax, not to be distracted by hangouts or nightclubs- that's all empty. They have to keep moving forward. They can't stop learning new things, building a foundation. They can relax and enjoy themselves after that.
You yourself performed at the Universiade. What does this competition mean for rhythmic gymnastics?
An athlete defends his/her country's honour at any international competition, and Universiade is no exception. No one wants to let down one's own team, let alone one's entire country, so an athlete strives for results.
Did any of the gymnasts remind you of yourself when you were young?
Some say Alexandra Merkulova is like I was in my youth. Quite frankly, she seems more emotional to me.
What did you think of Universiade's organization and the games' opening ceremony in Kazan?
The opening ceremony was grandiose. I just don't know that they could come up with anything better at the [2014 Winter] Olympics [in Sochi] – it was incomparable even to London['s 2012 Summer Olympics]. Plus, this is Tatarstan, where people are hospitable and have special standards as hosts.
What do you think – can Yevgeniya Kanayeva return to this elite sport after her break – specifically, after the birth of her child?
Of course she can! And why not? The rules keep changing – there used to be 19 elements, but now there are nine, so that other countries could catch up to Russia and be competitive. But there's no way around it – our gymnasts stand out. And, as before, they continue to set the trends in the sport.
First published in Russian in Izvestia.
All rights reserved by Rossiyskaya Gazeta.