St Petersburg rock legend 'Gorshok' dies at age 39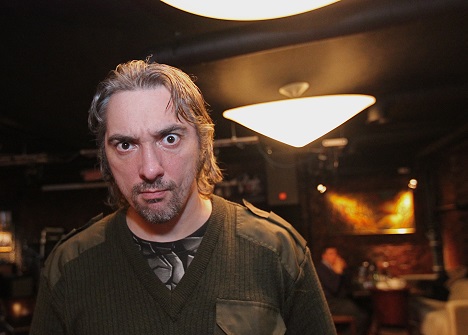 Mikhail 'Gorshok' Gorshenev was a rock legend in Russia. Source: Sergei Kuksin / RG
The Korol I Shut member, who reached out to the hearts of Russia's rock and roll fans, died last week, reportedly of a drug overdose.
Mikhail 'Gorshok' Gorshenev rose from restoring old paintings to leading one of Russia's biggest post-Soviet rock acts, the idiosyncratic St. Petersburg punk band Korol I Shut. He died late last week at the age of 39, reportedly of a drug overdose.
Formed in 1992, Korol I Shut came to the limelight in the late '90s. At the time, the city's perestroika-era generation of rock acts was aging and losing steam, and Gorshenev's band fit the call for new blood.
Gorshenev was born in Boksitogors, a town in the Leningrad region, in 1973. Raised in a family of military officers, he spent his early childhood in Russia's Far East before returning to the Leningrad region to live with his grandmother.
Despite his later stage image of a rebel and troublemaker, Gorshenev said in interviews that he wasn't a hooligan at school - though he had no interest in schoolwork, either.
He became interested in music while training as a restoration artist at a vocational school. He later restored paintings at the Hermitage. The studio provided for him and his colleagues soon turned into the rehearsal space for the band that was to become Korol I Shut.
In 1992, Korol I Shut played their first gig at 13 Ulitsa Rubinshteina in St. Petersburg, which hosted the city's legendary rock club in the 1980s. Later the band became one of the main acts at another St. Pete legendary venue, the club TaMtAm.
The band's lyrics, which were inspired by Russian fairy tales, had nothing to do with the issues traditionally explored by punk rockers. Korol I Shut, whose name translates as "A King and a Jester," seemed to have little interest in punk ideology, focusing on punk as a musical form instead.
Their debut album "Kamnem po Golove" (Hit with a Stone on the Head) mixed their fantastical lyrics with melodic rock. While not embracing punk rock's hard ethos, Korol I Shut didn't shun the genre's imagery and lifestyle. Gorshok, who co-wrote most of the music and lyrics with the other front man, Andrei 'Knyaz' Knyazev, had the most colourful look of the entire lineup, with a mohawk and front teeth missing.
The first show by Korol I Shut I attended was at an underground Minsk club in early 1998. The musicians appeared to be having a lot of fun, interspersing the songs with random flows of obscenities. Some 18 months ago, I met the band's members after another, semi-official Minsk show: at the time, Belarusian authorities were discouraging promoters from bringing Korol I Shut to the country, as shows by the punk band could attract an "undesirable element."
I spoke with Gorshok and others in the dressing room after the gig as the musicians took turns swigging on a bottle of whiskey. Gorshok said that the band was going to be the biggest rock act in the country, and had already attracted the same number of fans to St. Pete's Yubileiny Sports Palace as the then-biggest domestic rock act, Mumiy Troll. "But they play Brit pop, and we play punk," Gorshok said.
I was skeptical, but he proved to be right. Korol I Shut really did become one of Russia's biggest rock acts. The band's "fairytale punk" turned out to appeal to a much wider audience than many more typical punk and rock bands. Even those who gradually lost interest in Korol I Shut's material couldn't ignore the band's huge popularity.
Unfortunately for the band, that kind of popularity was doomed to be short-lived. The musicians struggled to come up with something new, like their rock version of 'Sweeney Todd' staged in 2011. The departure of several musicians, including Knyazev, was also a blow.
Sadly, the stereotypical rock 'n' roll lifestyle also took its toll on Gorshok. The front man's shocking first-person accounts of his drug abuse and several clinical deaths were described in Ilya Stogoff's 2006 book Greshniki (Sinners). Later, he reportedly cleaned up.
But according to media reports, Gorshok's body was discovered with a syringe and a spoon lying beside it. Cardiac failure was reported as the cause of death.
Over a thousand fans gathered at Yubileiny Sports Palace in St. Petersburg bringing flowers and flags and sang the group's songs by the stadium walls.
Gorshenev is survived by his wife Olga and 4-year-old daughter Alexandra.
First published in The Moscow News.
All rights reserved by Rossiyskaya Gazeta.