2013 Linoleum Festival: The Reanimation of Animation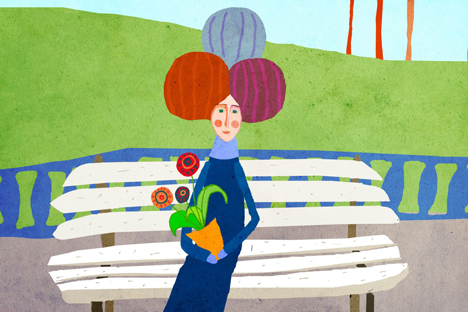 Visitors will be able to see animated films by Oscar nominee Bastien Dubois and multi-time international festival winners Kirsten Lepore and Ivan Maximov. Source: Press Photo
The Eighth Linoleum Festival of Contemporary Animation and Media Art began at the Solyanka State Gallery in Moscow on July 26. The festival will be a unique opportunity for Russian audiences to be the first to see the best recent additions to the art of animation.
The festival has been held for the past five years. Its name is an allusion to the animated film "Horizontal Lines" by Canadian experimenter Norman McLaren, who drew directly on his film — hence the name Linoleum.
The idea behind Linoleum is to showcase the best animated films and contributions to other media arts from around the world. Most of the work shown at Linoleum is unveiled to audiences for the first time there, as a condition for any submissions created within a year of the festival.
The program includes works both by students at the world's major film schools and by well-established veterans. Artists send in applications for participation from such animated-film powerhouses as Japan, Germany, France, the United Kingdom and the United States, as well as from the "terrae incognitae" of Argentina, Iran, Mexico, Chile and Ecuador.
Throughout its existence, Linoleum has visited Moscow's best art venues, and, since 2011, it has traveled to other Russian cities, including St. Petersburg, Sochi, Novosibirsk, Samara, Krasnoyarsk and Surgut.
Among Linoleum 2013's panel of judges are animator and director Mikhail Aldashin, festival founder Mikhail Tsarev, the executive director of the Moscow Museum of Modern Art, Vasily Tsereteli, artist and curator Katya Bochavar, artist and director of the Solyanka State Gallery, Fyodor Pavlov-Andreyevich, and the chief editor of the Bolshoi Gorod (Big City) magazine, Ksenya Chudinova.
Each year, Linoleum chooses a theme for competition participants to conceptualize and interpret. This year's theme — Reanimation — has elicited an incredible response in the form of a record number of entries (more than 130 submissions from 29 countries).
Visitors will be able to see animated films by Oscar nominee Bastien Dubois (France) and multi-time international festival winners Kirsten Lepore (United States) and Ivan Maximov (Russia).
The non-competitive program will present films that have won awards at the Betherefest and Cinanima international animation festivals. As a bonus, there will be an exhibition of animated films that were finalists in the Petrushevsky Animated Film Competition — so named in honor of the birthday of celebrated contemporary Russian author Lyudmila Petrushevskaya. Petrushevskaya herself will present the competition.
There will also be a number of educational events, including: a lecture by instructors at the Shar animation school and studio; a demonstration and lecture entitled "Aldashin's Choice"; a lecture by the founder and head of the Big Animated Film Festival, Dina Goder; and a clinic entitled "How to Become an Animator in Three Days."
"We're holding Linoleum for the third time," says the executive director of the Solyanka State Gallery, Alisa Bagdonaite.
"This year, we have a truly stellar collection of animations, winners and nominees of prestigious festivals — a lot of interesting premiers. The festival's speciality is an interactive exhibition format. For visitors' convenience, we have introduced a special classification system. The exhibition floor space will be divided into zones: drama, romance, fan films, music and 18-plus. There will also be extensive tours and separate workshops for kids, where they will be able to make their own cartoons."
The shortlist includes seven Russian submissions. Russia is still considered an animation powerhouse, alongside Germany, France, the United States and Japan. Works by modern Russian animators (such as Alexander Petrov and the aforementioned Ivan Maximov) place high in international competitions.
Even the festival's visual portrayal — the design for posters, booklets and other promotional materials — was a product of competition. This year's winning design depicts a rhinoceros striped with bright colors. The strange beast, symbolizing penetrating power, is depicted with a comical, cartoonish face and wearing a pet collar.
The Eighth Linoleum Festival of Contemporary Animation and Media Art will run through Sept. 8.
All rights reserved by Rossiyskaya Gazeta.