Synthesising Russian, Indian and European music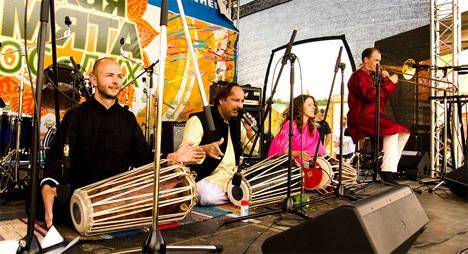 The members of Radost believe that Indian and European music may have been more inter-linked in the past but took different paths. Source: radostband.com
An Indian tabla teacher has influenced a Russian band to experiment with fusion music that combines eastern and western elements.
The joy of discovery and venturing into new musical genres are what drive Radost, a Moscow-based band. The band, whose name means joy in Russian, focuses on fusion of different styles and experiments with musical instruments that Russian audiences know little about, including members of the Indian percussion family.
Radost was formed at the end of 2008 when several Russian musicians started to analyse contemporary trends in music and explored ways of developing a new musical culture.
Band leader Vyacheslav Antonets calls Radost's music a "synthesis" of traditional and contemporary European, Russian and Indian music.
Having an open and inquisitive mind, Antonets and his peers do not limit their creative work to a sole genre or style. He lays emphasis on the meaning of the knowledge that Indian musical traditions carry. The band's music is influenced in great part to Antonets' relationship with Guru Radheshyam Sharma, who played with Radost for a while and gave a powerful creative boost to the band.
Guru Radheshyam Sharma. Source: pakhawajtabla.com
"Our acquaintance with Guru Radheshyam Sharma took place at the Jawaharlal Nehru Cultural Centre where he gave tabla and pakhawaj lessons," Antonets says. "In 2009 we decided to try playing the tabla within our band. When we asked Guru Sharma to introduce us to one of his tabla students, he said that he's willing to play with us himself. It was a wonderful surprise for us."
Not all the band members have been to India, but those with Radost Music, a joint project created by Russian musicians and Guru Sharma in early 2011, visit the country often. They write blogs and create websites devoted to their Indian travels and share their impressions.
Antonets says travelling to the country would be a tremendous experience. "If we have an opportunity we'll definitely visit India all together. We'll be happy to show Indians our music, see their reaction and share our understanding of the Indian music," Antonets says.
When asked about Radheshyam Sharma's influence on the band, Antonets said that when they started practising music with the guru, they clearly saw finer details and elements in music for the first time. "The so called reassessment of values was taking place then and is still taking place now," Antonets says. "As a result, not just music but the whole world became more understandable and harmonious for us. But the most important thing for us was seeing and understanding the meaning of the guru himself. By his example he showed us the approach towards music that we weren't aware of before, he taught us to believe in ourselves, in our strength, and we are very grateful to him for doing it."
The members of Radost believe that Indian and European music may have been more inter-linked in the past but took different paths. "Indian music contains elements non-existent in the European musical system, but it doesn't mean that those elements never existed in it," Antonets says, adding that if one goes longer than 300 years back, common elements would be traceable. An unprepared European would find it difficult to understand Indian music, let alone play something at once, the band members believe.
Today the Radost's experience is enriched with flavours and nuances of other musical cultures, and they consciously use musical elements that a European listener hasn't heard for several centuries.
Source: radostbmusic / Youtube
All rights reserved by Rossiyskaya Gazeta.