The phenomenon of singing in English has slowly but surely become almost the mainstream on the modern Russian pop-music scene. All of these musicians singing in English are Russians who speak, think and dream in Russian.
Sometime in the late 1960s, shockwaves from the Western rock-music revolution hit the Soviet iron curtain and snuck in through its holes and cracks. By that time, Soviet censorship in mass culture had been weakened by the many Western radio stations—Radio Luxembourg, BBC and Voice of America, for example — broadcasting hits from the Western charts that could be heard all over the Soviet Union.
Black markets in Russia were flooded with Western pop and rock records on vinyl. Even in official Soviet shops specializing in audio recordings on demand, customers were able to request unofficial recordings of The Beatles, The Rolling Stones and other Western superstars of the time.
Russian recording enthusiasts found a way to record Western hits using medical X-ray prints as "vinyl" discs. This technique was called "rock on the bones," due to the parts of human skeleton visible on the X-ray film.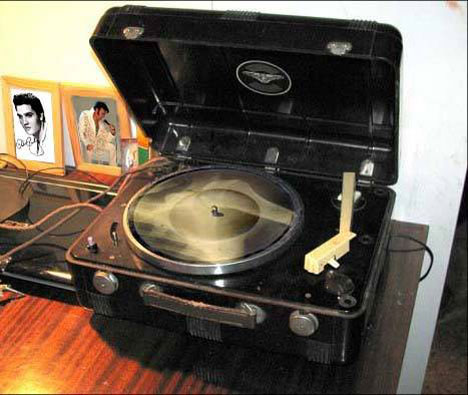 So-called patefon. Source: foto.lib.ru
Musicians — mostly students in the major cities — started forming their own bands and trying to imitate their favorite Western songs and styles.
These groups played covers of The Beatles, The Beach Boys, The Rolling Stones, Cream, Jimi Hendrix, Led Zeppelin, Deep Purple and many other American and British bands being played at student parties. Obviously, all of the singing by these cover bands was done in English.
Not everyone singing English lyrics, however, understood the meaning of all the words: Usually, Russian singers were just repeating the pronunciation of lyrics that they had written down on paper in Russian letters.
For example: "Can't Buy Me Love" by The Beatles sounded like "Кант бай ми лоув" for Russians; the line from the song "Venus" by Shocking Blue, "She's got it," was transcribed as "she-is-garra" by cover bands.
Thus, the first generation of Russian rock bands consisted of cover bands trying to master their music skills and imitate great Western rock music virtuosos such as Jimi Hendrix, Eric Clapton, Carlos Santana, Jaco Pastorious, John Bonham and others. For some unknown reason, these cover bands were called "beat bands" instead of rock bands. As well, the first unofficial organizations of cover bands were called "beat clubs."
Russian cover bands in the late 1960s and mid-1970s were trying to play, sound and look like their Western music heroes. They took similar rock-sounding names for their bands — names such as Ruby Attack, Flowers, Falcon, Toy Soldiers, Successful Acquisition and The Second Wind. At the same time, some cover bands were experimenting with writing their own tunes in the same style as the covers they were playing.
Successful Acquisition (Удачное приобретение) performing "Room Full of Mirrors" by Jimi Hendrix, Live 1974
Source: Youtube
Ariel (Ариель) performing "Ob-La-Di, Ob-La-Da" by The Beatles
Source: Youtube
Funny Boys (Веселые ребята) performing "Ob-La-Di, Ob-La-Da" by The Beatles
Source: Youtube
After the first generation of Russian rock bands that played mostly covers, a second generation of bands came to the scene. They were playing music that sounded like Western rock, but their lyrics were in Russian and written by the band members themselves. Sometime in the late 1970s, a new phenomenon called "Russian rock" took over the country.
Russian words in rock songs were often related to protest and nonconformity with the Soviet system. There is still a school of thought that credits Russian rock with being one of the major forces leading to the collapse of the Soviet Union.
As Mikhail Gorbachev's perestroika reached its peak at the end of 1980s, with free travel and cultural exchange having become a reality, a few Western producers and record labels turned their eyes toward the Soviet music market, trying to find new talent they could introduce to the Western world.
Some of the first English-singing Soviet rock exports to the West were Leningrad's Boris Grebenshikov (leader of the band Aquarium) and Moscow's glam-rock band Gorky Park. Grebenshikov was invited by the producer Dave Stewart (formerly of the Eurythmics), who helped Boris adapt a few of his Russian songs in English and compose a new ones.
Grebenshikov's band Aquarium was one of the most beloved underground bands in the Soviet Union, mostly because of their interesting combination of acoustic and ballad-style songs with unique Russian lyrics.
Grebenshikov's solo album of English-language songs, "Radio Silence," was released in America by the Columbia label in 1989. To support the release, a music video was aired on MTV, a documentary about the album was released, and Grebenshikov himself appeared on various late-night American TV shows.
"Radio Silence" received a cold reception in the U.S., most likely due to Grebenshikov's inability to convert his Russian-language lyrics and acoustic songwriting into an American type of rock-n-roll.
Besides its failure to break onto the charts in the U.S., the "Radio Silence" release created turmoil inside Grebenshikov's band Aquarium: Only one other member had been invited to participate in recording and promoting the English-language solo album.
The rest of the band's members had remained home in Leningrad, upset that they were cut off from the project and the opportunity to travel to America. After this experience, Grebenshikov returned to Leningrad and continued to write and perform his songs in Russian.
Boris Grebenshikov, "Radio Silence"
Source: Youtube
Glam-metal band Gorky Park was formed in Moscow in 1987. The band was composing its songs in English right from the beginning, targeting the Western audience. Their manager, Stas Namin, who was himself from the first generation of Russian rock bands in the 1970s (with a group called Flowers), helped them to meet and get advice from American superstars (including Bon Jovi, Frank Zappa and other famous American rockers that visited Moscow during Gorbachev's perestroika). Their first album, "GP," was released on the major American label Mercury in 1989.
Since Gorky Park was aimed at Western markets, they become widely known—and not least owing to the new Soviet-American friendship between CPSU General Secretary Mikhail Gorbachev and U.S. President Ronald Reagan.
Gorky Park, "Bang"
Source: Youtube
Gorky Park performing "Try to Find Me" at The Moscow Music Peace Festival, Live August 1989
Source: Youtube
By the early 1990s, perestroika was over, the Soviet Union had collapsed and Gorbachev's political career had come to an end. Times had changed and Western interest in Russian and post-Soviet music had drastically diminished.
The only Russian act to sing in English and grab the attention of Western audiences since Gorky Park was the female pop duo t.A.T.u., which exploited a sexy schoolgirl image and lesbian undertones in the late 1990s.Some of their English-language songs, such as "All the Things She Said," received airtime and TV time in Western Europe in the early 2000s.
t.A.T.u., "All the Things She Said"
Source: Youtube
t.A.T.u. performing "Not Gonna Get Us" at Top of the Pops, Live 2003
Source: Youtube
For some time, Russian bands singing in English stood aside and were almost invisible next to the total domination of Russian-rock style bands.
Bands singing in English and playing mostly Western covers can still be found in restaurants, at weddings and at private parties. So-called tribute bands featuring young musicians have started to arrange their own events and small festivals in clubs.
By the end of the 1990s, tribute bands had become fixtures in Russian music clubs: At least once a week, some kind of event with a band performing in English was held in the clubs. All kinds of tribute bands can still be found in Moscow's clubs—bands covering Kiss songs, glam rock from the 1980s, The Beatles and Stones tribute bands, heavy metal, reggae, Brit pop, and even Irish and Celtic music.
Easy Dizzy (Russian tribute-band to AC/DC), "T.N.T."
Source: Youtube
In the mid-2000s, a new generation of club-goers arrived on the scene, bringing along the next generation of bands performing English-language songs. Russian students—in particular, the sons and daughters of wealthy parents—had become frequent visitors to various music festivals held around the globe, and they had been assimilating the latest music trends, as well.
A new breed of bands singing in English began to appear in clubs. These bands were playing tunes with English lyrics—lyrics they wrote themselves. Many of these bands were modeled after Franz Ferdinand, Coldplay, Muse, Travis, Keane, Oasis and other Brit-pop acts from top of the charts in the 2000s.
It has been almost 10 years since the start of this new wave of Russian bands with original English-language songs. These types of bands can now be seen on TV shows and heard on radio programs. They tour Russia, and some of them perform internationally.
This is a good reflection of the state of mind of the younger Russian generation, which grew up in a consumer society and did not suffer much economically, compared to previous generations. They grew up watching Western television shows and playing English-language video games.
On another note, the English language is much easier to use and more excusable than Russian in a pop song: A silly love song being performed in English by a Russian band will not produce roars of laughter or insults from a Russian crowd in the club, compared to the same song being sung in Russian. At the same time, Russian bands singing in English have the luxury of singing about almost nothing and still feeling stylish, cool and even commercially desirable to promoters and agents.
Audiences that prefer not to listen to sometimes harsh Russian-language songs about daily life and eternal Russian problems now prefer local bands that sing in English: It brings them relaxation and an illusion of escape from the difficulties of Russian life.
No one is particular about what kind of words they actually hear in English-language songs, because foreign lyrics do not necessarily make them think hard and look in the mirror.
The most successful music TV program in Russia today is "Eurovision" — an international contest of singers and bands from European countries, all singing in English. It is manufactured entertainment for the masses, albeit with a patriotic edge.
Viewers can chant in front of their TV sets —"Go, Russia Go!"— in support some peculiar music act that was discovered somewhere in the middle of Russia and goes onstage at Eurovision to perform an English-language pop tune written for them by a team of crafty Russians or hired Western producers. It's fun and it's for everybody.
This is a new kind of business for the Russian music industry, based on the English language that is the world's language of commerce.
Eurovision 2012 – Russia: Buranovskiye Babushki, "Party for Everybody"
Source: Youtube
All rights reserved by Rossiyskaya Gazeta.