Indian squad all set for Moscow IAAF world championships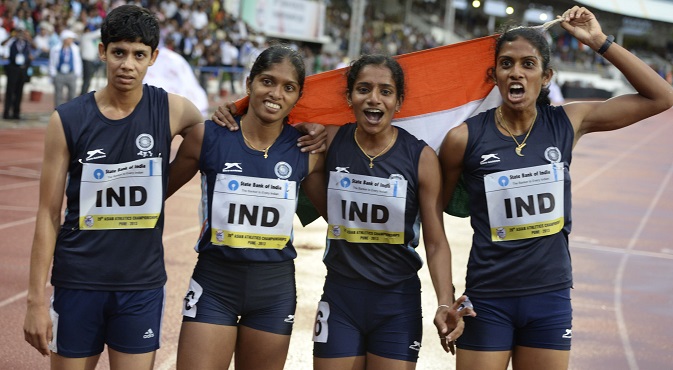 The Indian women's 4x400m relay team won gold at the Asian Athletics Championships. Source: Athletics Federation of India
A 15-member team will represent India in the championships that start on Saturday. Running legend P.T. Usha, who now coaches the relay team, will accompany the athletes.
The best athletes from around the world will converge at Moscow's Luzhniki Stadium for the 14th edition of the IAAF World Championships. The mega event which takes off on August 10 is set to be the biggest ever in terms of participation. A record 206 countries have entered 1,974 athletes, who will compete over a period of 9 days.
The Indian contingent will join their global counterparts on Tuesday. The team comprises of 15 athletes including 8 women for walking, 4X400m relay, discuss throw, triple jump and 3000m steeplechase events. "The 4x400m relay team, which had won gold in Asian Athletics Championships in Pune, is likely to do better in Moscow," the Athletics Federation of India (AFI) said in a press note.
The quartet of M R Poovamma, Tintu Luka, Nirmala Sheoran, and Anu Mariam Jose are on a high after their winning feat at the Asian Championships. At the same event, Poovamma had also acquired silver in women's 400m race. Luka is a protégé of the celebrated former Indian athlete P. T. Usha. The erstwhile 'queen of Indian track and field,' Usha, also accompanies the Moscow bound team in her position as a coach. This championship will be the comeback race for the Commonwealth Games gold medallist, Ashwini Akkunji, who returns after a two year ban due to doping allegations. Anilda Thomas completes the six member 4X400m relay squad.
The Indian team is heavy on walkers with six contenders. The national record holder K T Irfan will compete in the 20km race category alongside Gurmeet Singh and Chandan Singh while Khusbir Kaur will participate in the women's event. The large number of qualifying walkers is owing to an improved standard. "Our walkers have attained 'A grade' qualification standard which means that we can send up to three contestants in the corresponding category, secretary of AFI, C K Valson, says. "A lesser level would've meant less number of participants."
US based Vikas Gowda will represent India in discuss throw. He came into limelight after winning India's first ever gold medal during the Asian Championships in July. Gowda who trains under four-time world champion John Godina at his academy in Phoenix, scored his personal best of 66.28m and created a new Indian record. He was seventh in the previous edition of the World Championships.
Gowda and Irfan are also backed by Olympic Gold Quest (OGQ) an Indian initiative which supports promising athletes. "Both Vikas and Irfan are our marquee athletes and best hope for India's first athletics medal in the Olympics. They have been rising through the world ranks steadily in last couple of years and we are hopeful of a strong finish from both of them at the World Championships," said a spokesperson for OGQ.
Renjith Maheswary in triple jump and Sudha Singh in 3000m steeplechase also have their coach's faith. The chief coach, Bahadur Singh, who has been supervising the yearlong national camp at Patiala,
says, "Our athletes have won at the Asian and Commonwealth games and we are sure they will do better in the World Championships." Singh has high expectations from the squad but he wouldn't go as far as saying that there are high chances of winning medals. India has so far earned a singular medal in these championships which was a bronze by Anju Bobby George in long jump, in 2003. "We would see many finalists this year, of that I am sure, but it won't be right to say that we'll get medals. The competition is very tough in the final round. You could be first or last over a marginal difference. I want our athletes to just focus on improving themselves," Singh says.
All rights reserved by Rossiyskaya Gazeta.