P S Raghavan to be India's next ambassador in Russia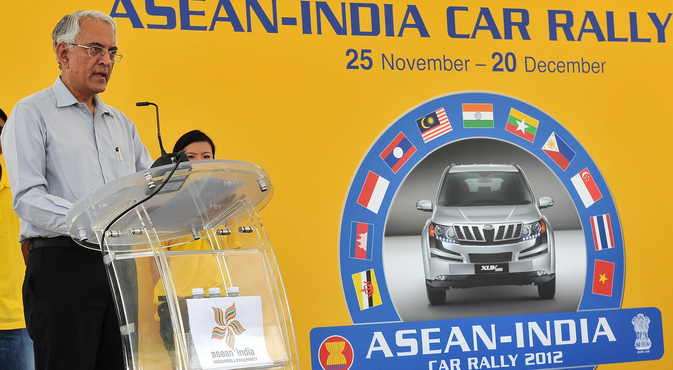 P S Raghavan is a seasoned diplomat. Source: MEA photogallery
The new ambassador will be replacing Ajai Malhotra, who retires on November 30.
P S Raghavan, a Special Secretary in the Ministry of External Affairs and a career diplomat will be India's new ambassador to Russia, key sources in the Indian government said today.
Raghavan will be replacing Ajai Malhotra, the present Indian ambassador in Russia who retires on November 30. Like Malhotra, Raghavan too is fluent in the Russian language and was the Second Secretary at the Indian Embassy in Moscow in 1981-82.
The new ambassador will be reaching Moscow towards the end of November and will be taking over only after Malhotra retires. This is despite the fact that Indian Prime Minister Manmohan Singh will be visiting Russia twice, first next month for attending the G20 summit in St Petersburg (September 5-6) and then again in October on a bilateral visit for attending the 14th Indo-Russian annual summit in Moscow.
Officials explained that this is an unwritten tradition of the Ministry of External Affairs wherein a serving diplomat is not disturbed by his designated successor till the former completes his assignment or superannuates. Therefore, Raghavan will not even be a part of the Indian Prime Minister's delegation when he leaves for St Petersburg.
As for Ajai Malhotra, there is no word yet whether he would be roped in by the Indian government in any capacity post-retirement as many Indian diplomats have been after their retirement.
During his 34-year-long career, Raghavan has served with distinction on many important assignments in India and abroad. A high point of his career was his four-year-long stint as a joint secretary in the Prime Minister's Office (PMO), a coveted posting. He successfully completed his tenure in the PMO nine years ago.
Raghavan is currently Special Secretary at the MEA headquarters in New Delhi and is in-charge of Administration and Development partnership Administration, a special division created in the MEA in January 2012 to effectively handle India's multi-million dollar aid projects through the stages of concept, launch, execution and completion.
Raghavan's Mission Moscow
Sources very well familiar with the Indo-Russian bilateral relations said informally that Raghavan's mission in Russia will be to build on the good work done by the current Indian ambassador Ajai Malhotra and take this tried, tested and trusted relationship to a new level.
Though Raghavan is a seasoned diplomat and does not need any brief on how to go ahead with his next diplomatic assignment, it is mandatory that he will be meeting Foreign Secretary Sujatha Singh, External Affairs Minister Salman Khurshid and possibly even Prime Minister Manmohan Singh just before he leaves for Russia.
Raghavan would be taking over at a time when the Indian prime minister would have had two meetings with the Russian president Vladimir Putin and a highly ambitious and very busy agenda would have been prepared by the two leaders for the next one year.
According to sources, Raghavan's most important brief would be to remove the existing irritants between the two sides over defence issues. It is expected that India and Russia would have come up with some institutionalized mechanisms to deal with defence-related issues by the time Raghavan takes over.
Russia is miffed with India for losing several big ticket defence deals in past couple of years while India is bugged by inordinate delays by Russians in executing agreed defence projects in time. Raghavan would be expected to pay very high attention to the defence aspects of the Indo-Russian relationship. Besides, Indo-Russian engagement is tipped to witness more intensified cooperation is several fields like energy, nuclear, space, science and technology, medicine, IT and trade.
Another high priority for Raghavan would be to boost trade ties between the two sides and sell Brand India as an attractive investment option. Newer vistas are promising to open up on this front as the Russians are increasingly getting involved in oil and gas exploration in India, railways and infrastructure projects.
Hopefully, issues related to Kudankulam 3 & 4 units would be resolved by the time Raghavan by the time he takes over in December but in case these remain unresolved, it would undoubtedly constitute his highest priority and biggest challenge. Thus far, the track record of the soft-spoken Raghavan shows that he has pulled off every responsibility he was given with aplomb.
The writer is a New Delhi-based journalist. His Twitter handle is @Kishkindha.
All rights reserved by Rossiyskaya Gazeta.